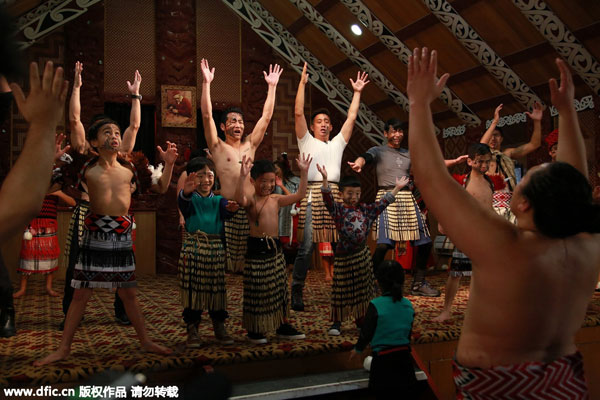 A still image from the popular dad-kid reality show Where are we going, Dad. [Photo/IC]
BEIJING -- China's reality shows must uphold socialist core values and repel vulgarity, vanity and money worship, the State Administration of Press, Publication, Radio, Film and Television (SARFT)announced in a circular on Wednesday.
Reality shows have been booming in China in recent years, attracting huge audiences. Yet some of them have been over profit-driven and depraved, provoking public criticism, the circular said.
Some of the shows are merely making a fuss about nothing or agitating extravagance and luxurious lifestyles, the SARFT noted.
An undesirable tendency of excessive entertainment and low taste should be halted, giving way to healthy socialist values including honesty, integrity and resilience, the SARFT said.
The general tone of reality shows should be positive and inspiring, telling right from wrong, and providing constructive solutions to social problems, the circular said.
Reality will be forbidden from amplifying social conflicts and fabricating stories to be more eye-catching in order to raise the audience rating, the circular said.
The SARFT also said reality shows should break away from heavy dependence on the introduction of foreign formats such as Korean and American variety shows, adding that producers should be confident in China's own culture and create original insights into TV program planning.
Television staff are not allowed to invite celebrities with records on such negative acts as drug taking, whoring or drunk driving, to take part in reality shows.
They must desist from false advertising, and resolutely put a stop to publicity stunts by celebrity participants during recording, the circular said.
Reality shows should be based on real life and put more attention on ordinary people, instead of only touting pop stars. The SARFT also said reality shows should minimize participation of minors.