Justice Ministry plans to increase the number of people and cases that qualify for assistance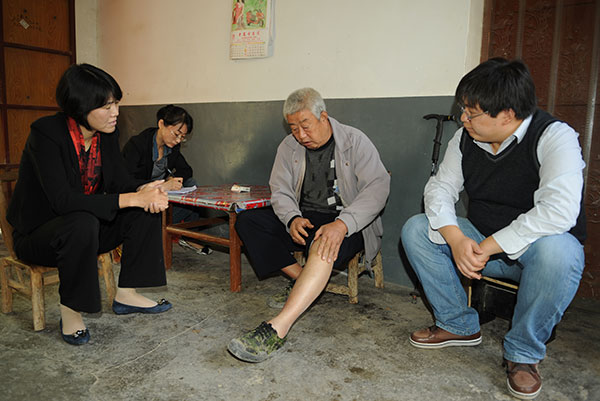 Staff members from a legal aid center in Xi'an, Shaanxi province, visit Wang Chang'an (second from right). Wang, who lives in Gaoling county, asked for legal advice after being injured. Liu Xiao / Xinhua
Qin Zhihui, better known by his online alias Qin Huohuo, became "famous" for spreading rumors.
From 2011 to 2013, the former employee of a Beijing marketing and planning company fabricated stories on 10 micro blogs to attract public attention. He slandered celebrities, including popular television hosts Yang Lan and China Disabled Persons' Federation President Zhang Haidi, and he posted a comment saying the government had paid more than 200 million yuan ($32.2 million) to compensate a foreign victim who died in a 2011 train incident in Wenzhou, Zhejiang province - a fabrication.
The 30-year-old said he did all of this to seek fame and fortune. But when he was arrested in 2013, the young man from a poor family did not have enough money for a lawyer, so he applied for free legal aid and was accepted.
What surprised him was that the designated lawyer tried her best to help him get lenient punishment.
"I didn't expect I would get lenient punishment, considering the bad social influence of my case," said Qin, who was sentenced in Beijing Chaoyang People's Court in April 2014 to three years in prison for defamation and causing trouble.
"The lawyer actively defended me during the court hearing, and the court accepted some of her defense opinions when handing down the prison term."
Sun Xiaoyang, the designated lawyer for Qin, was paid only 2,000 yuan from the Beijing Legal Aid Center for her service in Qin's case, but she said money was not her concern. "What I care about most is helping people in need to obtain their legal rights rather than seeking benefits," she said.
After Qin was detained in September 2013, Sun immediately applied to meet him in the detention house to tell him his legal rights and learn about the case. She met with Qin more than 10 times during the whole legal process. She went to the prosecuting department to read the case files, actively exchange evidence and discuss her concerns with prosecutors before the court hearing to streamline the issues and exclude illegal evidence.
"The difficulty I encountered was more technical - there were lots of electronic documents and I needed to compare them with each other to discover the differences and flaws to provide new evidence to the court," she said.
Qin was one of the more than 1 million people who received free legal aid services last year.