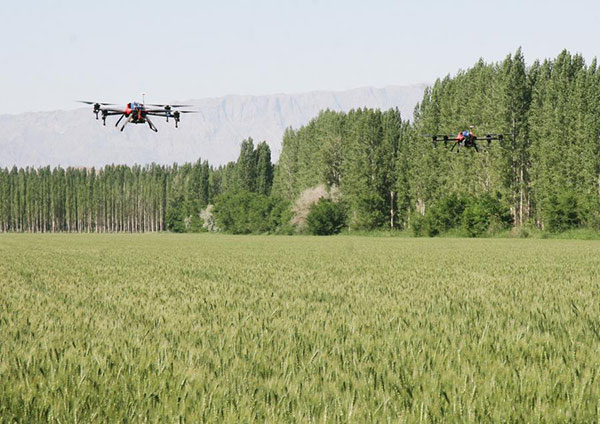 Drones fly over a wheat field to spray insecticide at a farm of the Xinjiang Production and Construction Corps in Bayan Gol Mongolian autonomous prefecture, Northwest China's Xinjiang Uygur autonomous region, June 9, 2015. [Photo/Xinhua]
As early as the end of this year drone pilot licenses will be required to fly remote-controlled model planes, or mini-drones, in public areas in Shanghai, Shanghai Morning Post reported Tuesday.
Remote-controlled model planes refer to mini-drones that have no manipulating programs, have no global position system, and are completely operated by wireless remote control manually within a visual range. They usually fly at less than 1,000 meters high.
In recent years, they have been widely used in wedding celebrations, advertising, news gathering, aerial photography and in the TV and film industry in China.
It is conservatively estimated that hundreds of such mini-drones were sold in Shanghai every month, according to Gu Chen, president of the Aeroplane and Vehicle Modeling Association of Shanghai.
Gu said Monday that his association is leading the effort to draft a regulation to manage mini-drone flying in the city and the regulation is expected to come out before the end of this year.
Taking air traffic safety, anti-terrorism and public security management issues into consideration, drone pilots registration and flying license management are expected to limit drone flying to legally-qualified amateurs, said Gu.
The mini-drone pilot licenses, which have nine levels, are issued by the Aero Sports Federation of China and are valid all across China. They are valid for a life-time and need to be renewed every four years. The different levels of licenses qualify people to fly drones at different heights and in different areas.
According to the draft regulation, flying a mini-drone in any public airspace will require a pilot license, said Gu. If flying above a highly populated area, the pilot should hold an above-midlevel license and get approval from the police. Military and urban management officers will also be involved in their management.
Proposals have been raised to the local people's congress that any pilot violating the regulation could face five to ten days of detention, said Gu.
"We hope citizens can obey the upcoming regulation the way they obey traffic regulations, although there will be no law-enforcement department like the traffic police", Gu added.
In the future, buyers' information may be embedded into chips of mini-drones, according to Gu.
The potential risks of drones are not widely known to the public.
Drones will fall down from the air if any mechanical or radio signal transmission problems occur. People and property might be in danger if it happens in a populated area.
It also may disturb airplanes. Though drones usually fly below 1,000 meters high, they may run into another aircraft, like police helicopters which usually fly at a height of 400 meters.
The widespread use of drones may provide opportunity for people with sinister motives. Some secretive national defense facilities may also be exposed to the drones' cameras.
And as some mini-drones can carry loads as heavy as 10 kilograms, terrorists can use them to launch aerial bomb attacks.