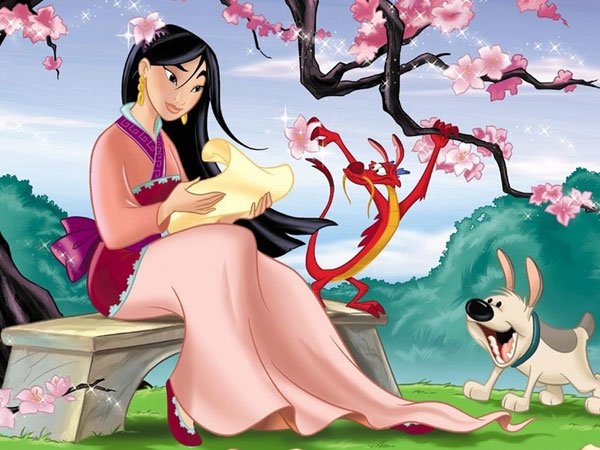 A still from the Disney animated film Mulan. [Photo/Agencies]
Online users in China took to the Internet over the weekend to mock apologies after two different institutes demanded a comedian and a director to say sorry.
A vice-chairman of China's Taoist Association asked director Chen Kaige to apologize Sunday, saying his recent work Monk Comes Down the Mountain smeared the image of Taoism and a Taoist priest.
"The Taoist priest in the movie broke the commandments as he robbed, killed, got intoxicated and had sex with a woman," said the statement.
Chen is renowned for his movie Farewell My Concubine, an Academy Award nominee and Best Film at the Cannes Film Festival.
Monk Comes Down the Mountain is based on a best-selling novel and has earned 383 million yuan ($61.7 million) in the Chinese film market so far, making it the highest-earning film of Chen's career.
Feng Xiaogang, another famous Chinese director who obviously disapproves of the Taoist Association protest, joked on his Weibo account "The association of monsters deserves an apology from director of Monster Hunt," a domestic fantasy-comedy that has brought in a record 669 billion yuan in four days.
The debate over Monk Comes Down the Mountain comes just weeks after a comedy program on Shanghai Oriental TV featured Jia Ling, a Chinese comedian, bantering about Hua Mulan, a traditional patriotic heroine, and portraying her as a coward and fool.
An open letter from an institute that studies Hua Mulan in Yu Cheng, Henan province, called the show "nauseating," and demanded Jia to apologize to the audience across the nation.
Internet users probably inspired by Feng's comments went online to mock the apologies demanded.
"Monkeys deserve an apology from Monkey King: Hero is Back," one said.
"Somalia's pirates deserve an apology from Pirates of the Caribbean," one joked. "Dinosaurs deserve an apology from Jurassic World," another said.
Online surveys on sina.com showed 60 percent of respondents believed neither Chen nor Jia should apologize.
"Their works are artistic recreation and people should not take them that seriously," a respondent said.
Liang Xingyang, secretary-general of the Taoism Association of Xi'an, said Sunday people should have open mind to allow for artistic expression as different people could interpret Taoism either way.
In a telephone interview with China Daily, Yin Hong, executive vice-president of Tsinghua School of Journalism said that cultural productions should be allowed to make fictional adaptations for its nature of "diversity."
"Every institution has its right to speak out the opposite views, but they should not appeal to administrative power, or ask for a compulsory change, if (the movies or variety shows) are not offensive to the laws," he said. "Especially they should not threaten (the producers) to make the revises."
"Many Hollywood blockbusters have slashed their presidents, or the Central Intelligence Agency, but it never resulted in hatred from American moviegoers," said the professor, adding that Chinese theatergoers have their own discretion.