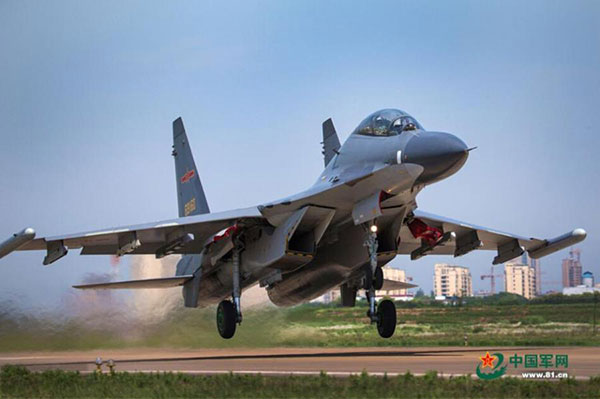 [Photo/www.81.cn]
Four employees of a defense industry company in Southwest China's Sichuan province have been arrested on suspicion of spying and selling confidential information on state-of-art weapons to overseas intelligence agencies, reported a local newspaper on Wednesday.
It is the first time in almost a decade that the national security authorities in the province have made public an espionage case.
One suspect surnamed Wen, who was born in the 1990s and worked at a workshop of the company, was approached by an Internet user using alias "H" with a part-time job offer.
"H" claimed that he was a foreign newspaper journalist and offered Wen 3,200 yuan ($534) per month in exchange for access to restricted data at his work.
Wen provided him classified information, such as model number, monthly output and special materials of military products.
A second suspect surnamed Wang, also born in the 1990s and working at the technical department of the company, encountered "H" when he was surfing the Internet in an effort to find a part-time job to earn extra money. He provided confidential information on modeling, sample number, experimental time of military products at monthly earnings of 3,000-4,000 yuan.
A third suspect surnamed Wu, who has worked at the company for nearly 10 years, was reached by email from a "headhunter" after he posted his CV on a job-hunting website saying he had experience in a national defense military company.
The "head-hunting company" asked Wu to provide information related to his work as proof. He was informed that he had been hired after he sent them the proof.
The new job required Wu to disclose classified military information in exchange for 500,000 to 1.2 million yuan a year which tempted Wu who thought some foreign spy organizations was making the offer.
Pretending to be aerospace enthusiasts is another disguise foreign spies use to contact people who work with classified information.
Foreign agents claimed that their company was carrying out a market research as it wanted to enter the aerospace and aviation field. They asked one suspect's help to provide them data from periodicals, magazines and papers that was restricted or classified.
The suspect, who was employed for a national defense military technology department, recommended his colleague to the agents as he was unable to get his hands on the data. His colleague was compromised and became an accomplice.
It has been reported that not only the core technology staff of national defense military industry but anyone could be used as a spy to undermine national security, especially at a time when China's military industry is growing.
Veterans, students with overseas education background, college teachers and students, military enthusiasts and employees of the military industry and government departments are prone to become targets of overseas intelligent agents recruiting for espionage works, said security organs.
The national security agency warned that foreign intelligence agents have shown an increasing tendency to recruit young Internet users to collect military intelligence.
A 37-year-old taxi driver from Kaifeng, Henan province, has been arrested on suspicion of spying and selling confidential military information to overseas intelligence agencies, local news reports said in March.
A court in Dalian, Liaoning province, recently jailed two men for selling military secrets, including hundreds of photos of the Liaoning aircraft carrier to foreign spies, local newspaper Dalian Daily reported in March.
According to China's National Security Law, a citizen should report to security organs immediately after realizing that they may have unknowingly conducted espionage for overseas intelligent agencies. Under such circumstances, the individual may not be prosecuted if they bring the activity to an immediate halt and demonstrate repentance for their actions.