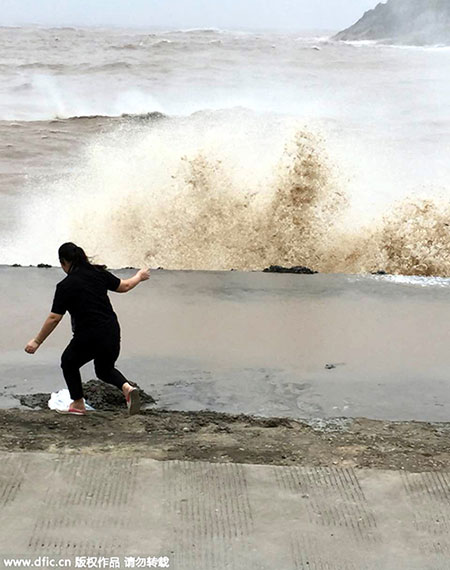 A woman struggles against strong wind in Cangnan county of coastal Zhejiang province, as Typhoon Chan-Hom approaches on July 10, 2015. [Photo/IC] 
HANGZHOU - China is on highest alert as super typhoon Chan-Hom approaches the eastern coast at high speeds.
The National Meteorological Center issued a red alert, the highest level of alert, on Friday morning for Chan-Hom, whose center was spotted 550 km southeast off the coast of Zhejiang province at 5 am.
The typhoon is moving northwestward from the East China Sea and will land somewhere between Fuding in Fujian province and Xiangshan in Zhejiang province.
The wind speed at the center of the typhoon is forecast to top 58 meters per second at landfall.
In Zhejiang, nearly 20,000 people have been evacuated and 20,000 fishing vessels returned to harbor for shelter. The province upgraded its emergency response by two levels to prepare for the typhoon. Direct shipping routes to Taiwan from Zhejiang have also been suspended since Thursday.
Waves as tall as 10 m were observed in the sea off the coast of Zhejiang.
"The upcoming typhoon seems very powerful. We have sealed all our windows and doors and have stored food," said Liu Yimin, a villager in coastal Huagang village.
Meanwhile, the Wenzhou city government has asked all 53,000 flood control staff in the city to stand by over the weekend.
The Fujian provincial flood control and drought relief headquarters ordered all people on coastal fishing farms in Ningde, Fuzhou, Pingtan and Putian to evacuate by 10 am Friday.
Shanghai also issued a typhoon alert on Friday warning of gales starting Friday afternoon and heavy rain on Saturday.
Typhoon Linfa made landfall on Thursday in the southern province of Guangdong, bringing torrential rain to the coast. No casualties have been reported.