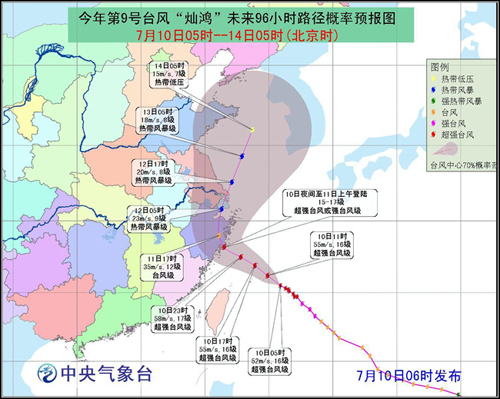 Typhoon Chan-Hom track forecast.
At 9:00 am on July 10, China Meteorological Administration (CMA) elevated emergency response to level I, the highest level to address super typhoon Chan-Hom.
The National Meteorological Center issued red warning of typhoon in 6:00 am today. This year's No 9 typhoon Chan-Hom has become super typhoon and entered into southeastern East China Sea on July 9. It located in sea areas which about 550 kilometers from southeast of Wenling, Zhejiang in this 5:00 am. It's forecasted that Chan-Hom will move towards northwest at the speed of 20-25 kilometers per hour with gaining intensity then land in coast of Fuding in Fujian and Xiangshan in Zhejiang on early morning to forenoon of July 11.
CMA requires institutions and provincial meteorological bureaus of Fujian, Zhejiang, Shanghai and Jiangsu to enter level due emergency response state and provide refined services for the public and governments.