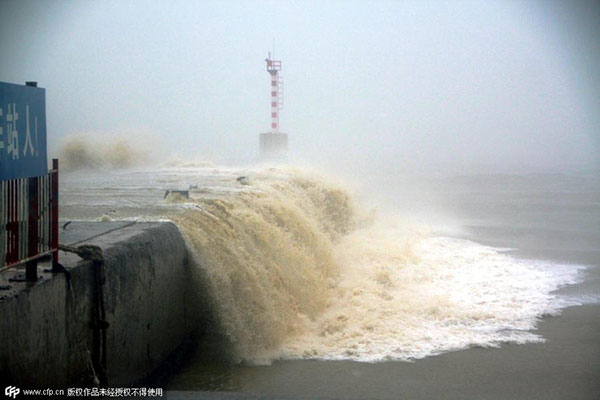 Typhoon Linfa stirs up giant waves as it makes landfall in South China's Guangdong province, July 9, 2015. [Photo/CFP]
GUANGZHOU - Typhoon Linfa made landfall on Thursday in South China's Guangdong province, where trains have been suspended, schools closed and thousands of fishing boats recalled to port.
Linfa made landfall in Jiadong township of Shanwei city at 12:15 pm, packing winds of up to 35 m per second, according to the provincial meteorological station.
From Wednesday night, gales and torrential rains hit Shantou city about 100 km away from the landing point. Trees in the city were brought down by strong winds while three main bridges to Shanwei city and an offshore island county have all been closed as of Thursday morning.
With a complex route and changing intensity, Linfa was earlier expected to make landfall on the coastal regions stretching from Shantou city in Guangdong to Zhangpu city in Fujian province.
About 10,400 fishing vessels returned to ports in five cities in Guangdong.
The province issued a yellow alert for Linfa on Wednesday, closing kindergartens, elementary and middle schools in 15 counties.
Meanwhile, another Typhoon, Chan-Hom, is approaching East China fast.
As of 11 am Thursday the center of Chan-Hom was located 1,000 km southeast to Wenzhou city of Zhejiang province, packing winds up to 40 m per second. It moved 70 km northwest in the last three hours maintaining the intensity, according to Zhejiang Meteorological station.
Chan-Hom is expected to land in Zhejiang on late Friday night or Saturday morning as a super typhoon, according to the station.
All 7,672 fishing boats in Wenzhou city were called back to harbor as the city issued a yellow alert on Thursday morning. Torrential rains are expected in the city from Friday night to Saturday.
Zhejiang suspended its direct shipping route to Taiwan on Thursday for safety reasons. Travellers who have bought the tickets can reschedule for free or get a full refund, according to the county government of Yuhuan.
Railway authorities in the eastern city of Shanghai plan to suspend all passenger trains along the coast on Friday and Saturday.
On Wednesday, the China National Commission for Disaster Reduction and the Ministry of Civil Affairs urged Anhui, Fujian, Guangdong, Guangxi, Guizhou, Hubei, Hunan, Jiangsu, Jiangxi, Shanghai and Zhejiang to set up dedicated teams to track the two typhoons and disseminate information.