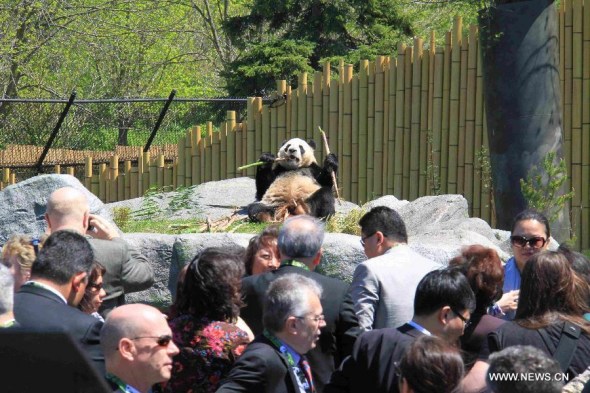 Giant panda Da Mao is seen at the Toronto Zoo in Toronto, Canada, May 16, 2013. [Photo/Xinhua]
Exhibitions that exclusively seek monetary profits will have to keep their hands off pandas, which are an endangered species and a source of national pride in China, according to forestry authorities.
Pandas are seen as the flagship of global wildlife protection efforts, according to China's National Forestry Administration (NFA). Panda-themed exhibitions should serve cultural, scientific or educational purposes. They are supposed to have a positive impact, promoting awareness, knowledge and concepts in terms of wildlife and environmental protection.
However, panda exhibits should not harm the livelihood of pandas by exclusively seeking monetary profits.
Pandas are reportedly presented inappropriately in certain exhibitions, which partially seek profits while neglecting their educational mission.
The NFA requires stricter inspection and supervision to restructure panda exhibits. In 2014, the NFA reviewed its contracts with exhibitors, choosing to terminate some.