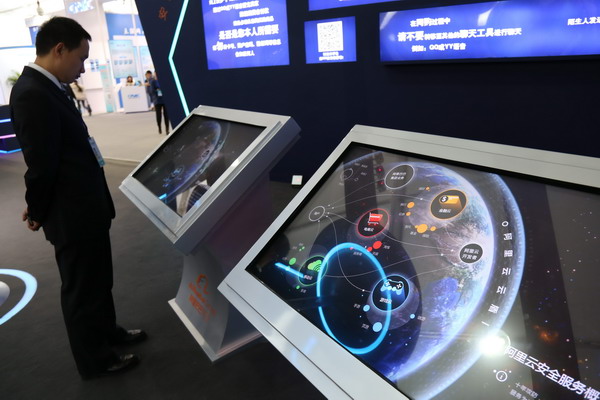 A man looks at Aliyun cyber security services, platform provided by Alibaba, which is shown at a cyber security exhibition on Nov 24, 2014. [Photo by Wang Yueling/Asianewsphoto]
Proposal would empower regions to take action locally if security threat emerges
The country's cyberspace network will be shut down temporarily in some regions if a breach of security occurs, according to a draft law on Internet security issued by China's top legislature.
In a move to ensure State security and public order, governments in the country's provinces, autonomous regions and municipalities could take measures to restrict Internet use with State Council permission in the event of a serious security breach in their area.
The draft, drawn up by the Standing Committee of the National People's Congress, was released on Wednesday.
The Standing Committee held initial discussions on the proposed law from June 24 to July 1, and it has been uploaded to the committee's website. The public has until Aug 5 to offer opinions.
The move is to strengthen building a national online emergency and alert system, improving protection in cyberspace and controlling damage if a breach occurs, according to a statement from the legislature.
The draft, covering seven security sections and 68 items, also stipulates that network operators and Internet authorities are obliged to stop the spread of posts that break laws. They also must record such breaches and report them to appropriate bodies.
Li Yuxiao, a professor of Internet governance at Beijing University of Posts and Telecommunications, said the draft's disclosure is crucial for today's China, since online threats and security problems pose great risks.
"The acceleration of the draft making and disclosure is a good thing, as it shows that our country is upholding online security with the law and intends to solve problems in legal ways," Li said.
He approved an online emergency and alert system, "because Internet security not only relates to State security, but is also in everyone's interests", he said.
"The draft is the basis of legal construction in cyberspace, and I'd like to see it made law, clarifying the obligations of Web authorities and operators," he said.
Wang Sixin, a law professor at Communication University of China, said it is the right time to disclose the draft after the State Security Law was passed on July 1, "because the public's attention is focused on the security issue".