Inspection closes loopholes that took money away from combat capability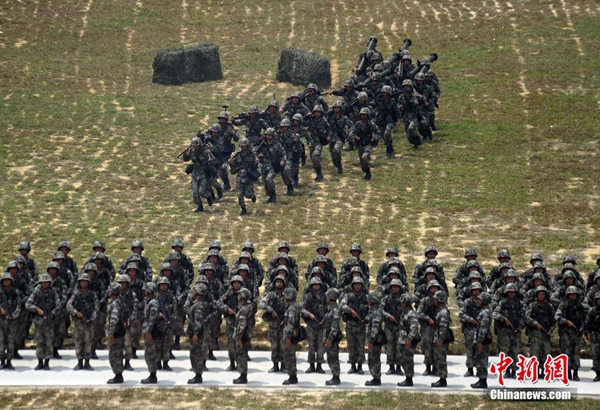 The People's Liberation Army (PLA) Hong Kong Garrison started a live-fire exercise in Hong Kong suburb on Saturday, July 4, 2015, the first of its kind since 1997 that local residents are invited to observe. [Photo/chinanews.com]
The People's Liberation Army has issued a regulation to correct 69 financial irregularities and close all the loopholes in its treasury.
The irregularities targeted by the regulation, released by the PLA's Leading Group of Financial Inspectors, include adjustments made to budgets without proper approvals, appropriation or embezzlement of designated funds, irregular granting of subsidies or allowances, as well as excessive spending on receptions and entertainment.
It requests that PLA units found to have irregularities should put them right immediately. Also, individuals who have used public funds improperly should give back the money in exchange for a lesser punishment.
However, the regulation stipulates that units or officers that knowingly violated financial rules after October should receive tougher punishments.
An important PLA meeting was held in late October in Fujian province, with President Xi Jinping, also commander-in-chief of the Chinese military, presiding over the discussions. The meeting has been regarded by the military as a milestone in its efforts to fight against corruption.
The regulation urges the PLA's central departments and regional commands to make their own rules based on their unique conditions, requesting them to close all loopholes in their financial management.
The PLA launched the inspection campaign in February, expecting that one year would be needed to check its units' expenses and revenues for 2013 and 2014.
The PLA's seven regional military commands were inspected before June, and a host of problems were uncovered, including falsification of evidence and concealment of facts.
The PLA said the goal of the campaign was to make sure military funding is spent to improve combat capability rather than other purposes.
"Some corrupt officers used loopholes in the financial system to embezzle public funds and engage in other irregularities, but we were unable to punish them because their behavior had not been listed as irregular in previous regulations," said a PLA auditor who declined to be named. "Now we have specific clauses in the new regulation to cope with them."
The PLA has had a number of successes in its anti-corruption movement over the past two years. Xu Caihou, former vice-chairman of the Central Military Commission, and 36 other high-ranking officers have been convicted, accused or placed under investigation.
In addition, more than 200 officers with the rank of lieutenant colonel or above were punished in 2013 and 2014 for misconduct exposed by the military auditors.
zhaolei@chinadaily.com.cn