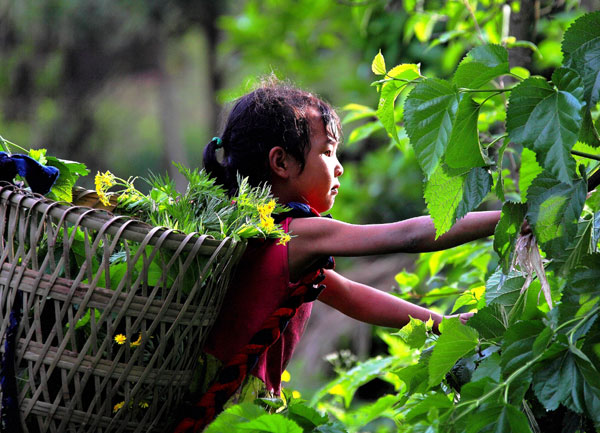 Yin Wenqiong,5, a left-behind child, does farm work in Guang'an, Sichuan province. [Qiu Haiying / for China Daily]
Communication is key
Li Yifei, deputy director of the Scientific Communication and Education Research Center at Beijing Normal University who is also senior researcher in psychology, said that even trained psychology professionals find it difficult to identify and understand the psychological problems faced by left-behind children.
"Children faced with such problems don't behave differently or give different answers to questions in polls. That's why we need to communicate with them more thoroughly and learn about their concerns," he said.
According to Li, the large number of left-behind children means it would be impossible to attempt large-scale psychological intervention.
"Most left-behind children don't have severe psychological problems, and so professional psychotherapists might not be able to help them," he said.
Liu said it's important for parents to learn to how to communicate effectively with their children. "We found that many children are unwilling to talk with their parents on the phone because they know they will always be quizzed about their performance at school.
"They need what most children need - a story told by their father before bed, a few words of encouragement, and constant reminders that they are loved and missed," he said.
Contact the writers at xuwei@chinadaily.com.cn