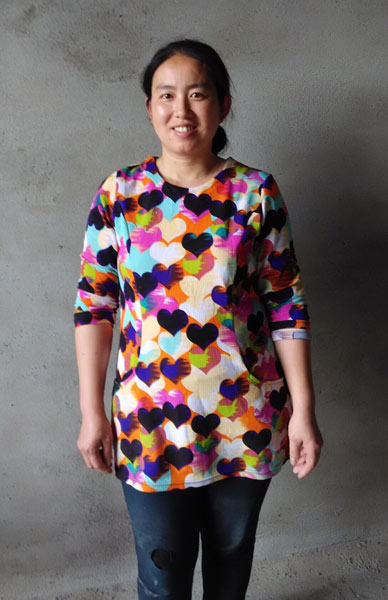 Qiu Yuying, 42 and mother of two, is from a village of Xiaogang, Hubei province and now works on construction sites laying bricks in Shijiazhuang, capital of North China's Hebei province. [Photo/chinadaily.com.cn]
My husband and I began working away from our hometown 14 years ago. At the time, my daughter was only three years old. We had to make two ends meet and in our hometown, we could hardly achieve that. Five years ago, we had another child, a boy.
My two children are taken care of by their grandparents. It takes around a 10-hour train journey from my work place.
We know children need the presence of their parents. My little boy is not old enough to express his feelings, but I can feel it. Once he said to me over the phone, "Mom, I won't talk to you."
He must have been missing us at that moment, but he could not say it.
We stay at home at least six months in a year to take care of my two children, and call them every three days. But we find that not enough.
My daughter asked me when she was still in primary school if I could stay at home just like other moms. She was weak when she was small and had to attend schools almost two years later than her peers. She is 17, and will attend the high school entrance examination later this month. We will go home and be there for her during the exam.
Parent-child bonding is a two-way street. For my children, their parents' presence is more important than money. But we have done too little for them.
We have no going-out plan for the next year or the greater future. We owe them too much and want to be with them.