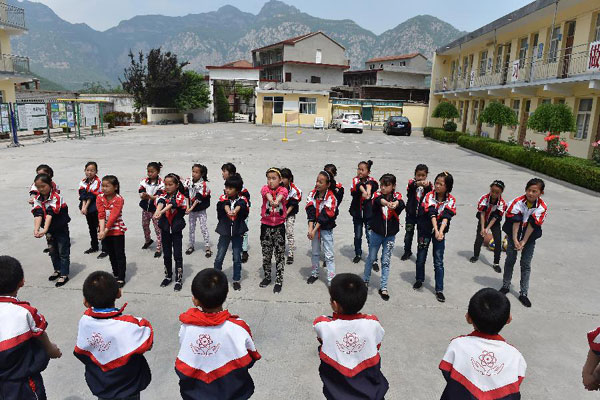 Boarders have a PE class at the primary school of Shicheng Township of Pingshun County, north China's Shanxi province, May 26, 2015. The children in the school are mostly left behind children whose parents work outside of their hometown. [Photo/Xinhua]
A police investigation into the deaths of two young girls in Hengyang in Central China's Hunan province has revealed one of their friends, a 12-year-old girl, poisoned them to death because of a small quarrel. All three girls were "left-behind children" whose parents work far away from home. Comments:
When parents work far away from home, schools and communities play more important roles in the lives of their children. However, the sad fact is that the State still fails to invest enough in rural schools. There are not enough professional teachers for rural schools, while counselors are totally unheard of. Worse, now county-level governments are trying to merge rural schools into fewer, bigger ones to save costs. Where is the hope for the 60 million children left behind?
Beijing News, June 17
Reports say the suspect envied the others because her step-grandparents treated her badly. Had anybody talked with her, she might not have had so much hate in heart, had anybody checked her bag, the poison hidden there would have been found, had anybody taught the victims to distinguish poison, they wouldn't have drunk the poisoned cola offered to them. This tragedy should remind the whole society to form a safety net for children that are "left behind" by their parents. This requires the joint efforts of the government, schools, the community and parents.
xinhuanet.com, June 16
The number of "left behind" children while their parents work elsewhere rose to 61 million in 2013, or 20 percent of the total population. Further, 7.3 percent of them have no guardians and live alone. If citizens' constitutional right of migration had been protected, workers' children would enjoy public education in the cities where their parents work, and such tragedies wouldn't happen. A reform is needed to alter the current system that divides the population into urban and rural residents.
Southern Metropolis Daily, June 15