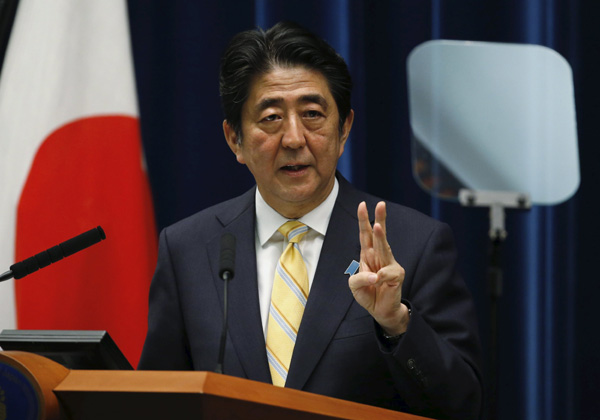 Japan's Prime Minister Shinzo Abe gestures as he speaks during a news conference at his official residence in Tokyo May 14, 2015. [Photo/Agencies]
Japanese Prime Minister Shinzo Abe sent some positive signals during his interview with Phoenix TV on Monday. His remarks that Japan has deeply reflected upon its past and will never follow the disastrous road of war were aimed at easing tensions with Japan's neighboring countries and quell concern at home over his new controversial security bills.
Abe's remarks were made at a sensitive moment. With the commemorations for the 70th anniversary of the end of World War II drawing near, Abe, as a history revisionist and right-leaning politician, has come under increasing pressure from the international community to formally apologize for the wrongs his country did during that period.
The latest survey by the Japanese media has revealed that support for his Cabinet has fallen to just above 40 percent, the lowest level since he took office in 2012, with two-thirds of voters opposed to Japan exercising the right of collective self-defense embodied in the new security bills proposed by Abe.
On Sunday, about 25,000 protesters surrounded Japan's Diet building to express their strong opposition against the new bills.
As China's Foreign Ministry Spokesperson Lu Kang rightly pointed out, China understands Japanese people's hope that their government will avoid repeating the mistakes of the past. The war of aggression waged by the Japanese militarists brought severe suffering to Asian countries, and also to the Japanese people.
In recent years, as Abe has pushed the country to act and sound increasingly rightist, China, together with other countries around the world, has repeatedly asked Abe to face up to Japan's history of aggression and stop his political maneuvering that is reviving Japan's ghost of militarism.
Yet Abe has insisted on going further along his wrongly chosen road and is seeking greater military status for Japan in the region and even beyond. With some of the changes already being reflected in the newly inked US-Japan defense cooperation guidelines, the new security bills are just part of Abe's ambitious strategy.
However, Japanese people's concern about the bills is clear proof that Abe's revisionism and wild dreams have begun to backfire. If the Japanese leader still wants to be a responsible politician, he should heed the voices of those at home calling on him to change direction. The waning public support could cost him his credibility and even legitimacy.
(China Daily 06/17/2015 page8)