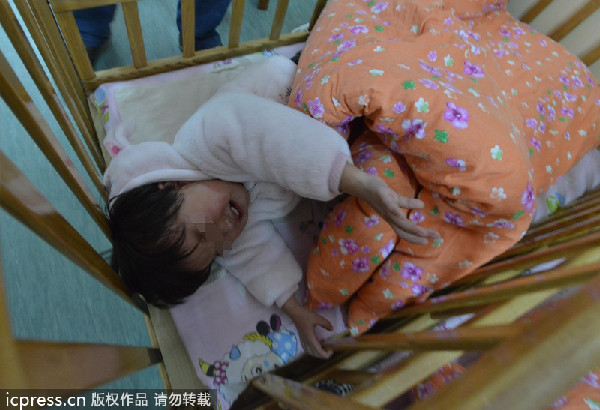 A baby with serious illness was left at the safe haven, an infant shelter set up for unwanted babies in Southeast China's Xiamen city, Jan 5, 2014. This is the first baby left at the shelter since it opened on Jan 1, 2014.[Photo/icpress]
BEIJING -- Just two weeks after the first baby hatch was established in the south China city of Guangzhou in late January, nearly 80 abandoned infants had been collected from the safe place.
A baby hatch allows a parent to safely and anonymously abandon an infant and consists of an incubator, a delayed alarm device, an air conditioner and a baby bed. A person can place the baby in the hatch, press the alarm button, and leave. Welfare staff retrieve the baby five to 10 minutes later.
The Guangzhou case sparked public discussion, and more baby hatches are set to be established in China. However, experts say simply saving abandoned infants is not enough, and a better system is needed to protect the rights of children with illnesses and disabilities.
MORE BABY HATCHES DESPITE CONTROVERSY
A total of 25 baby hatches have been established in 10 provincial regions in China, and more will be set up in another 18 regions, the China Center for Children's Welfare and Adoption (CCCWA) told Xinhua.
The first baby hatch in China was set up in June 2011 in Shijiazhuang, capital city of north China's Hebei Province.
Many have endorsed baby hatches, hailing them as a sign of social progress and a way to help save the lives of abandoned babies. However, others believe baby hatches encourage people to abandon their unwanted children, which is prohibited by Chinese law.
Li Bo, head of the CCCWA, said people should view baby hatches rationally. Their purpose is to protect abandoned babies and conforms to laws safeguarding abandoned infants' right to life by prohibiting the dumping of unwanted children.
"Laws emphasize prevention, while baby hatches focus on rescue after the laws are broken," added Li.
Li said there are no data showing baby hatches trigger an increase in abandoned babies. The Shijiazhuang social welfare institution received 105 infants in 2009 and 83 in 2010. Since the baby hatch was set up in June 2011, it has received 181 abandoned children.
In addition, the survival rate of abandoned babies increases with baby hatches. Taking the baby hatch in Shijiazhuang as an example, Han Jinhong, head of the city's social welfare institution, said only one-third of abandoned babies survived before, but now the death rate has fallen sharply with the help of the baby hatch.
"Although we cannot change the abandonment of babies, we can change the results after they are dumped," added Han.