Nonresident kids fight to attend big-city schools
As the deadline nears for education chiefs to draw up a clear gaokao policy, the public debate over whether the children of migrants should be allowed to take the national college entrance exam in major cities is growing in intensity.
In August, authorities in all provinces, municipalities and autonomous regions were told by the General Office of the State Council to address the question by the end of 2012, saying yes or no.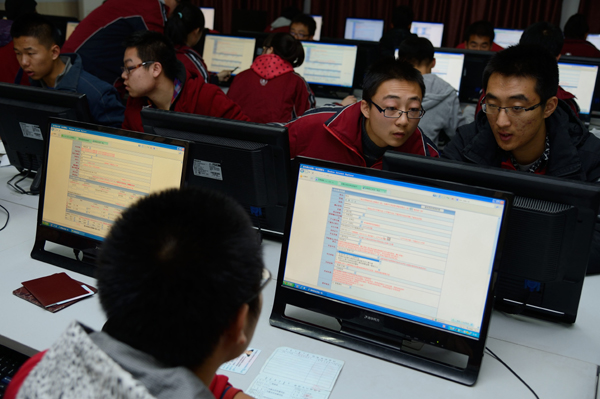 Students at No 6 Middle School in Hohhot, capital of the Inner Mongolia autonomous region, apply for the national college entrance exam. The application period for the exam in Inner Mongolia ends on Dec 12. [Photo by Liu Wenhua / China News Service]
However, no detailed plans have yet been revealed by China's three largest cities - Beijing, Shanghai and Guangzhou - and rival sides have continued to clash, both online and on the street.
Authorities in Guangdong province said Thursday they have completed a plan that would allow migrant children to take the high school and college entrance exams in the province.
Aside from Internet campaigns and forums, in recent months face-to-face meetings have turned into verbal fights and, in one incident at least, pushing and shoving.
"My 15-year-old daughter was told she is a locust," Zhan Quanxi, a migrant worker who has lived in Shanghai for 11 years, said as he recalled a meeting at the city's education commission in October. "We were told to bug off by native residents."
Under the current system, students must go to high school and take the gaokao in the place they hold hukou, their legally registered residence. This means children of migrant workers are often forced to return home for the last three years of their schooling, even if, like Zhan's daughter, they have studied in their adopted city since kindergarten.
"My daughter has lived in Shanghai since she was 4, but now she's not even able go to high school in the city," Zhan said. "We've paid taxes here, so why can't she share the same rights as her Shanghai classmates? We feel helpless."
Campaigners for a change in the rules have welcomed talk of amending the policy, saying it will be a milestone in the road to equality.
However, municipal officials in Beijing and Shanghai, as well as those in Guangdong province, have so far declined to give any indication of what they will actually decide, saying only that plans are imminent.
Beijing's education commission said its draft policy is awaiting review and could come into effect before the next Lunar New Year. Yet, in an online discussion with parents on Nov 28, the authority advised children of migrants to prepare to return home for the 2013 gaokao.
A statement on the website of the Shanghai Municipal Education Commission had a similar statement.