Bullet trains on a high-speed railway line in Northeast China have been forced to slow down seven times over the last three days because of smoking passengers, railway police said on Tuesday.
In the most recent incident, a fire alarm was triggered by a smoking passenger on high-speed train D8072 from Shenyang, capital of Liaoning province, to Dalian, a port city in the province, at 9 am on Monday.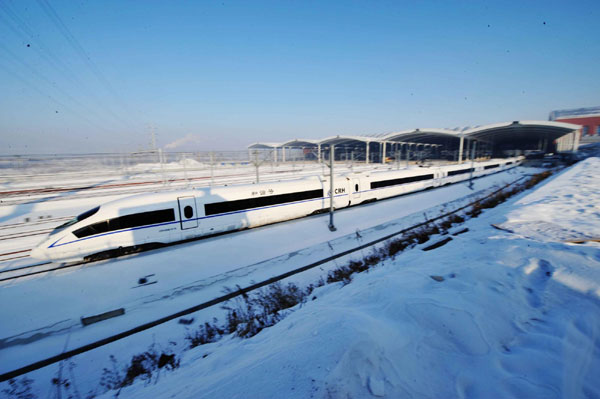 A high-speed train starts from Harbin West Station on Dec 1. [Photo/Xinhua]
The train was forced to slow from 200 kilometers per hour to 120 km/h, a police officer with the Shenyang railway public security bureau told Xinhua News Agency.
The smoker, a 23-year-old from Dalian, was fined 200 yuan ($30) for violating regulations.
"Smoking is strictly forbidden on high-speed trains, even in the toilets, washing rooms and connecting areas between cars," Xinhua quoted the unidentified officer as saying. "Smoking can trigger fire alarms or even cause a fire on the train."
Violators may be subject to warnings, fines or administrative detention for disturbing order on public transport facilities, he said.
On Saturday, the first day of the Harbin-Dalian high-speed railway's operation, a passenger was found smoking on a train to Harbin, capital of Heilongjiang province, leading to a deceleration of the train, railway police said.
The next day, a passenger in his 20s smoked in a washroom on a train also heading for Harbin, triggering the fire alarm. His actions nearly resulted in an emergency braking, according to Zhao Yang, chief conductor on the train.
The Harbin-Dalian high-speed railway, which links three provinces in Northeast China, is the world's fastest and longest railway in an area with extremely low temperatures. The train's speed can reach 350 km/h.
It is not uncommon for smokers to cause trouble on bullet trains.
On Jan 11, a bullet train traveling from Shenzhen to Changsha was forced to brake after a smoker activated the emergency braking system. The halt delayed more than 20 trains.
In December 2008, a passenger was given three days detention because his smoking caused a bullet train from Tianjin to Beijing to automatically brake just a minute after it had departed Tianjin Railway Station.
On Aug 7, 2011, several railway police officers and conductors had to apologize to passengers after they were caught smoking in the sightseeing car on a bullet train from Shanghai to Beijing.
Despite bans and warnings, smoking is still common on high-speed trains, according to Li Qiang, a professor with the tobacco control office of the Chinese Center for Disease Control and Prevention.
"Many passengers still take it for granted that smoking is allowed just as on ordinary trains, where they can take a puff in the connecting areas," he told China Daily on Tuesday.
Li said the ultimate solution is to ban smoking on all trains, ordinary ones and bullet trains.
"It's understandable that passengers want to enjoy a smoke break to refresh themselves after hours of travel in the car, but it is unethical to sacrifice other passengers' health," he said.
"Moreover, nonsmokers should also be more aware of their rights to avoid secondhand smoking."
Contact the writers at zhaolei@chinadaily.com.cn and zhengxin@chinadaily.com.cn
(China Daily 12/05/2012 page5)