Executives' insight on future of the web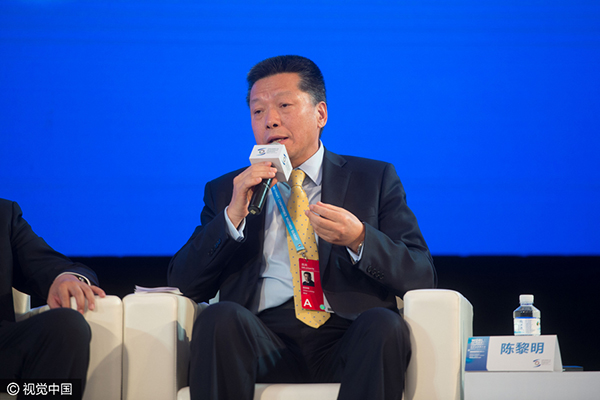 Chen Liming, chairman of IBM Greater China Group. [Photo/VCG]
A1 China's economic transformation is like a rebirth of internal strength. It aims to thoroughly remould itself. Currently, the macroeconomy sustains a steady growth. On the micro level, however, China is experiencing fast changes. Internet innovation is the emerging force that plays a catalytic and supporting role in reshaping China's economy.
A2 China's advantage lies in its huge internet population and its industry scale. But the internet sector is highly globalized. Measuring industry scale by country is a mindset of the industrial age and may not be a good benchmark in the internet era. Only by cultivating bigger global influence can Chinese firms help push the country's internet industry to a new height.
A3 "Disruption" is not an appropriate word to describe the interaction between new technology and traditional industries. The two are, in fact, contributing to each other's development. When looking forward to the next big thing, it's better to look to new technology such as artificial intelligence, block chain and virtual reality. Personally, I pay more attention to AI and cognitive science. Based on IBM's experience in more than 20 industries including healthcare, environmental protection, finance and manufacturing, we believe cognitive technology, represented by IBM's Watson, can greatly enhance individuals and organizations' competence, promote the development of each industry and help improve every one's life quality.
A4 I won't comment or predict the "temperature" of the capital market. But it is worth pointing out that the IT industry is currently driven by active technological innovation and boasts huge opportunities. Hard work, rather than hype, is needed to make the most of these opportunities. Be optimistic and down-to-earth. That's what we need.
A5 We have seen many technological breakthroughs in the past year in sectors such as cognitive science and block chain technologies. But I want to highlight a breakthrough in basic science. In August, IBM found a way to put a single bit of data on a 12-atom surface, creating the world's smallest magnetic storage device and boosting the current storage density by nearly 100,000 times. Before that, it required 1 million atoms for such storage. If the technology is put into use, we could store 30,000 full-length HD movies in one cell phone. And this would definitely have a revolutionary influence on the future digital life of human beings.