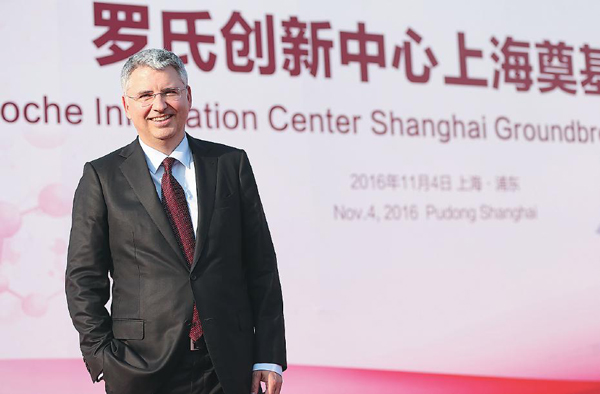 Severin Schwan, chief executive officer of Roche Group. PROVIDED TO CHINA DAILY
Roche Group looks to grow and change with the country's ever-evolving healthcare industry
Global biotechnology company Roche Group is committed to driving innovation forward in China, which offers a market of 1.3 billion people. With its research and development capabilities in pharmaceuticals and diagnostics, the company has positioned itself to promote personalized healthcare and contribute to China's precision medicine initiatives. Roche's CEO Severin Schwan shared his insights with China Daily reporter Wang Hongyi.
Could you describe Roche's R&D capacity, both globally and in China? What partnerships has Roche already built here?
As a world-leading biotechnology company, we are very much led by science and driven by innovation. We lead the industry with advances in personalized healthcare and our strong oncology portfolio.
R&D receives a greater share of our spending than marketing. On the group level, we spent 9.3 billion Swiss francs ($9.5 billion) on R&D in 2015, which was 19 percent of our turnover. We have consistently been among the top five R&D spenders worldwide, in any industry, since 2009.
Today, we have more than 330 employees in R&D in China. Over the past decades, we've trained a group of outstanding interdisciplinary researchers, leading to highly promising results through collaborations with Chinese companies and academic institutions.
What are your expectations for the new innovation center in Shanghai, which had its groundbreaking ceremony last week?
Last year, we invested 860 million yuan ($126.7 million) in constructing the new laboratory building for the innovation center in Shanghai. The new facility will provide 220 modular workspaces in 14,000 square meters of floor space. We expect it to be completed in 2018.
The focus of our innovation center is very much aligned with the diseases that have a high unmet medical need in China, such as Hepatitis B, which is one of the most prominent diseases in the country.
We hope the new innovation center will spur collaboration between Roche and local research institutions, helping to attract top research talents from both China and overseas.
Our aim is to develop outstanding new drugs for patients in Asia and around the world, and address the currently unmet needs of patients with infectious diseases and those related to immunology and inflammation, thus enhancing our long-term commitment to driving innovation in China.
What is Roche's position on personalized healthcare?
Personalized healthcare is about providing the right treatment for the right patient at the right time. With our combined strength in diagnostics and pharmaceuticals, we are uniquely positioned to further advance personalized healthcare.
In 2006, we made personalized healthcare central to our Roche Group Strategy. This focuses on integrating the knowledge in our pharmaceuticals and diagnostics divisions, and drawing on this knowledge throughout the R&D process, from early research to approval of new diagnostic tests and medicines, as well as their use by patients.
So far, we are the top player in oncology and in vitro diagnostics, drawing from decades of experience in molecular biology.
Today, we are developing two-thirds of our R&D projects with companion diagnostics, which greatly increases efficiency.
In 2015, Roche entered a broad strategic collaboration with Foundation Medicine, a leader in the field of molecular information in oncology, and began to use the latter's innovative genomic sequencing technology to accurately detect the oncogenic mutations in different patients and more effectively help oncologists to find highly-targeted therapies for cancer patients.
In January 2016, Roche announced its cooperation with Flatiron Health in integrating the immense "real world data" and using high-quality healthcare data and advanced analytics to improve both the development of medicines and the quality of treatment decisions.
The cooperation with Foundation Medicine in genomic data and the alliance with Flatiron Health in real world data strengthen Roche's access to innovation and new technologies and drive its commitment to more targeted treatments that, ultimately, make personalized healthcare a reality.
How will Roche promote personalized healthcare in China? What are the difficulties or challenges ahead?
Our diagnostics and pharmaceuticals teams are driving personalized healthcare in China. Roche China Biomarker Team is the first dedicated group in the industry to conduct biomarker studies, focusing on promoting cutting-edge science and technology. The team is mainly engaged in detecting biomarkers and using these techniques in product R&D.
We also provide training on personalized diagnosis and treatment for over 8,000 pathologists and over 4,000 pathology technicians in more than 600 hospitals, laying a solid foundation to improve personalized healthcare in China in the future.
Today, China already has leading companies in genome sequencing and a strong science community. I believe that China has full potential to realize personalized healthcare.
To turn personalized healthcare from a vision to reality is a long journey. The need to improve diagnosis and genetic testing, and the current lack of good quality patient data are problems that should be addressed. We are committed to supporting the Chinese government in overcoming these challenges.
How do you view China's rapid economic growth and its recent slowdown? Will this affect Roche's development in this market?
As one of the first multinational companies to enter China 20 years ago, we've witnessed the country's fastgrowth economy and its booming healthcare market.
The recent slowdown is a sign of China's transition to a new normal, toward building a more sustainable economy based on the consumption and service industries. A high value-added sector such as healthcare can be a new pillar of economic growth in this model.
With the slowing of economic growth, cost containment measures on off-patent drugs and the delayed launch of new drugs, 2015 is the first year since 2005 that the Chinese pharmaceutical industry is facing single-digit growth.
Despite short-term challenges, I am optimistic about the market's growth potential. With an aging population, China's demand for high-end healthcare and treatment for chronic diseases has increased rapidly over the past few years, in response to elderly patients' healthcare needs.
As part of its healthcare reform, the Chinese government is increasing overall spending on healthcare to broaden reimbursement coverage, especially for critical illnesses, and accelerating new drug approvals.
In the short term, we will benefit from expanded healthcare and reimbursement coverage for critical illnesses. In the mid-to-long term, we anticipate our business to grow more quickly, benefiting from the launch of new drugs.
How would you evaluate China's performance globally? Will Roche increase its investment in China?
China remains one of our most important markets globally. We have invested considerably to build a full value chain in China from R&D and manufacturing through to commercialization.
In diagnostics, China is already the second-largest country for us. In pharmaceuticals, China is our third-largest national market.
We recognize that China's pharmaceutical market environment is facing a challenging phase in the short term. However with our strong pipeline and dedicated people, we are confident about our long-term growth prospects by bringing more innovative products to China to benefit more patients.
What do you think of the opportunities and challenges facing your company amid recent healthcare reform? How does Roche fit into the national strategy of "building a healthy China"?
Since 2009, China's healthcare reforms have had far-reaching implications for the industry's long-term development.
The positive moves toward a more transparent and effective review process and capability building at the China Food and Drug Administration are promising for Chinese patients, as well as for innovation-driven companies like us.
We are very encouraged about the update to the National Reimbursed Drug List and hope that national reimbursement coverage can be broadened to critical illnesses.
There remain affordability challenges in China, but we are optimistic that with joint efforts from multiple stakeholders, including the Chinese government and companies like us, more and more patients will have the opportunity to access high-quality treatment.
Roche has been actively working together with different stakeholders, such as local governments, charity foundations, NGOs and insurance companies. We are looking to address unmet patient needs through reimbursement listings on the provincial and city level, patient access programs and private insurance offerings.
How do you motivate international teams?
I think people should be given more space and chances to increase their creativity.
In an organization, people should not be told what to do or what not to do. They should be given opportunities to make full use of their potential.
During this process, a leader should work to encourage them to achieve greater innovation rather than allocate them more tasks.