Where there's internet, there's a way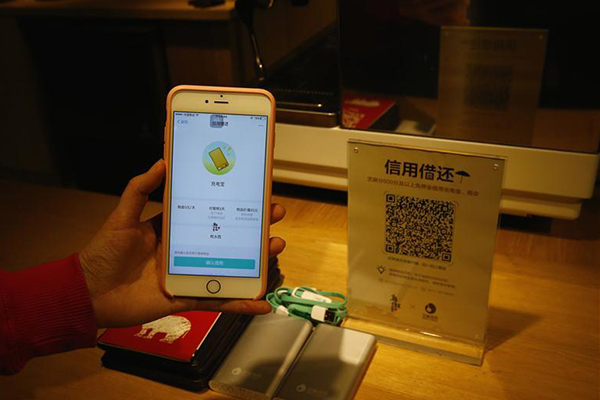 A tourist borrows a portable power pack with a mobile phone app in Wuzhen, East China's Zhejiang province, Nov 7, 2016. [Photo/Xinhua] 
During my recent four-day stay in Wuzhen, Zhejiang province, I spoke with a cross-section of its denizens. People said they are pleased that the town's infrastructure has improved much in the past three years.
Officials were proud that an increasing number of enterprises have been flocking to the town. Entrepreneurs said their businesses have seen growing returns.
Since it was my first visit to Wuzhen, I wasn't sure how the situation was years ago. But some things did impress me.
When I arrived at Wuzhen one late evening, I couldn't wait to do two things: connect to Wi-Fi and go around the town.
Free Wi-Fi in public areas is now available in Wuzhen. Such a service isn't rare anymore in cities, but it means a lot to a small town like Wuzhen.
I first visited the Wuzhen West Scenic Zone. That yielded a funny experience. About 10 minutes after I entered the zone, I mistakenly got on to a path used by very few people, and I found myself exiting the zone through a gate.
That was just as well because about 3 kilometers from the hotel, I found a bicycle station along the street. Its signboards guided me on how to access a bike using my smartphone. The whole process took me about 10 minutes, but it was worth it because it offered a two-hour free ride.
Later, locals told me hundreds of such bicycles became available at dozens of such docking bays at the end of last year.
Hundreds of new-energy vehicles are also available, for a small fee, across Tongxiang, the city to which Wuzhen is affiliated. Again, all you need is a smartphone to make use of the service.
I pedalled across streets and lanes, past shopping centers and residential areas, and found there were many hotels, though some of them were far from the scenic zones.
One day, I spoke with a hotel owner, who has rented more than 20 residential properties for his business. He said he didn't care much about the locations of the hotels. What's more important is how to make them special, as customers these days book rooms online and expect to have different experiences as hotel guests.
This willingness to embrace new technologies and be up to date with latest trends is integral to Wuzhen and Tongxiang, I think. For instance, local officials impressed me with their willingness to stay connected with me through WeChat, a popular instant messaging app. In fact, some of them proactively added me to their WeChat contact list.
They believe interactions in flesh and blood are fine but not enough, in the sense that social media could help facilitate exchange of ideas on a sustained basis.
That was a pleasant contrast to their counterparts elsewhere. I've interviewed many officials in other regions of the country and often sought to remain connected with them via WeChat. Many of them would just excuse themselves, saying they don't use social media as they have too many things to do every day.
How I wish they would hear one of Wuzhen's officials who said: "Nowadays, very few things can be accomplished without the internet, but by embracing it, you can reach further."