Rise of the robo-adviser in mainland finance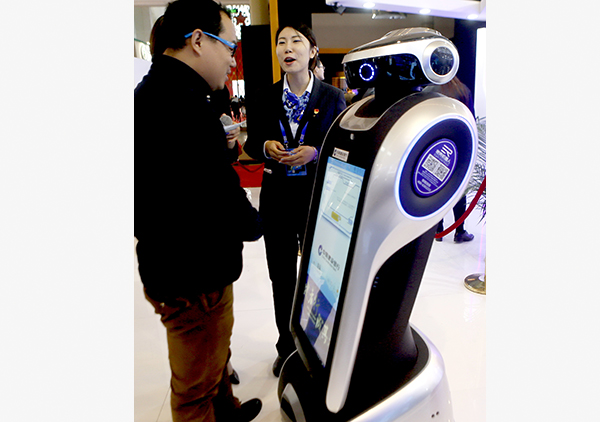 Visitors seek help from a China Construction Bank robot, presented at a financial expo in Beijing. [Photo/China Daily]
Providing automated advice and trading programs, popular phone apps utilize big data
So-called robo-advisers-automated advice and trading programs, that can be accessed via a smartphone-are rapidly becoming a big business in China.
Robo-advisers, phone apps that pre-select a range of assets and trades for customers automatically, have become increasingly attractive as investors search for affordable access to advice that improves returns during a period of low interest rates, weak local share markets and growing pressure on real estate prices.
They provide customized investment advice to individual investors based on big data and artificial intelligence, and their momentum of growth has picked up in China as a batch of internet companies and traditional financial institutions are tapping into the emerging field.
PINTEC, a Chinese intelligent financial services technology company, launched its intelligent investment advisory platform Xuanji in August. The robo-adviser offers intelligent investment management and asset allocation solutions to investors.
Xuanji is the first renminbi denominated robo-adviser in China, according to PINTEC. Its team comprises a group of experienced asset managers, data scientists, and technology developers and provides intelligent, customized and automated wealth management solutions for China's burgeoning middle class.
"The robo-adviser has become a trend of wealth management in foreign countries, but in China the digital asset allocation system is far less common and is based on US dollars, which makes for a high threshold for ordinary people," said Zheng Yudong, CEO of Xuanji.
Xuanji's digital asset allocation system combines quantitative modeling, machine learning with programmed trading, to calculate and deliver investment portfolios to suit clients' demand and preferences, as well as make modifications when users' conditions and market environments change.
The company also launched an international version related to digital asset allocation based on the US dollar, aiming at clients who have an investment demand for dollars
Robo-investment arose in the United States in 2010 and witnessed an explosive growth in 2015. Startups such as Wealthfront and Betterment have developed very fast and achieved high valuations, carving out a major market share for themselves.
With the rapid development of artificial intelligence and big data in China, robo-investment advisors began to emerge in the mainland last year. Proponents say there is a huge demand for diversified investment solutions, that leverage technology to enhance financial services, with the rise of the Chinese middle class.
Founded in 2012, PINTEC uses big data and digital technologies to provide financial solutions for consumers and small businesses. The company said it has created financial services solutions for the digital economy.
"We will focus on the intelligent finance sector and make great efforts in technological innovation and accumulation, and cooperation with organizations," said Wei Wei, CEO of PINTEC.
"We believe intelligence will be the future direction in the finance industry and we are marching in the right direction," he added.
PINTEC owns Dumiao, a digital consumer lending technology offering Xuanji, Hongdian Fund, and Muffin Insurance, an online insurance company.
Tong Yingman, an expert at wangdaizhijia.com, a web portal that tracks the internet finance industry, said there were currently no special laws and regulations to regulate robo-advisers.
"These finical advisory platforms need to acquire related qualifications to offer investment solutions in accordance with the types of financial products," Tong said.