Executives' insight on future of the web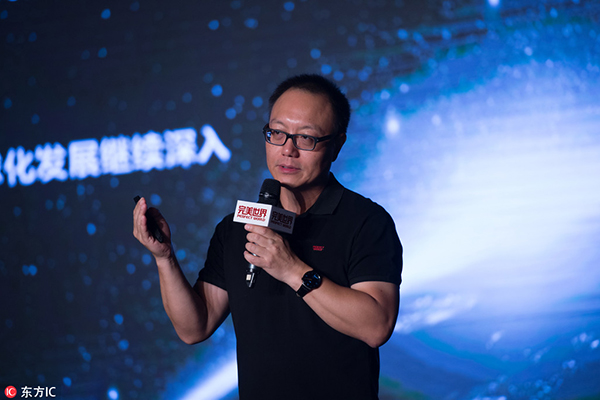 Xiao Hong, CEO of Perfect World Co Ltd. [Photo/IC]
A1 To a certain extent, internet or innovation can serve as the new engine for China's economic transition and upgrading, the core of which lies on the improvement of resources allocation and efficiency enhancement. The advocated Internet Plus, more precisely speaking, is "internet plus change", meaning rebirth for certain industries.
A2 Whether a country is an internet power is basically determined by its overall national strength. Enjoying the advantages of the world's largest internet users and several world's top 10 internet companies, China is on its path to becoming an internet power. Some challenges, however, are plaguing China. Many internet companies lack innovation, resulting in the emergence of plagiarism, imitation or even vicious competition.
A3 In next few years, the gaming industry may be completely subverted due to the rapid development of virtual technology. Thanks to the maturity of artificial intelligence and prevalence of the Internet of Things, more intelligent unmanned vehicles emerge and it is likely to have a leap-style development. Artificial intelligence is undoubtedly a field in the eye of future technology.
A4 The so-called "capital winter" is a more rational and prudent change in the capital market. Investors are no longer blind as the past, but more mature to pay attention to specific projects. However, typically reflected as a lack of innovation, our internet market is still not sufficiently impetuous to win the favor of capital, resulting in an ostensible capital winter. The "capital winter" tends to be a turning point for startups, as it teach them a lesson on how to gain access to better resources at a low cost, so that we may usher in a warm 2017.
A5 Artificial intelligence is undoubtedly the biggest surprise brought by new technology. Now, not only the AlphaGo and artificial intelligence research by Microsoft and Facebook are fruitful, but also China has made great progress in recent years. Moreover, AI tends to be applied in a vast range of fields, including the internet, medicine, manufacture and so on.