Participants praise Xi's speech at CIIE opening
By He Wei, Cheng Yu, Shi Jing, Wang Zhuoqiong, Zhou Wenting, Xing Yi and Xu Junqian in Shanghai | chinadaily.com.cn | Updated: 2019-11-06 10:25




Share - WeChat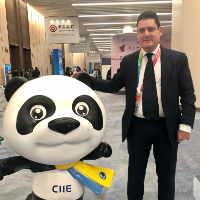 Foreign business leaders react to Xi's speech
Harmony is one of the words that is very often heard from Chinese President Xi Jinping's speeches. It is also in line with a common observation of international society toward China's approach of collaboration with other countries, which is very friendly, and it never interferes with politics in other countries.
CIIE provides a grant platform for business and I believe very much that we should focus more on availing various ways to increase business opportunities, as business is a way to remove barriers.
It is a common view of many European countries that the relationship with China is of great significance and will bring win-win opportunities for countries on both sides.