Participants praise Xi's speech at CIIE opening
By He Wei, Cheng Yu, Shi Jing, Wang Zhuoqiong, Zhou Wenting, Xing Yi and Xu Junqian in Shanghai | chinadaily.com.cn | Updated: 2019-11-06 10:25




Share - WeChat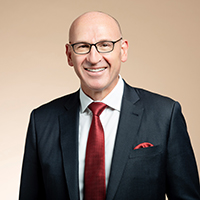 We are encouraged to hear President Xi Jinping's speech, which affirms China's continuous endeavors in going global, easing market access into China and elevating the business environment.
As the world leader in serving science, Thermo Fisher Scientific has been a beneficiary of the sound business environment in China. We are committed to driving forward scientific and technological innovation to expedite industry upgrade and transformation, locally and globally.
We believe China is open and ready to embrace more technological innovation, and this will continue to drive growth and development in China and beyond.
President Xi reiterated the importance of CIIE — better serving people's life, enhancing trade liberalization and facilitation and deepening China's opening-up. He clarified the direction and reinforced the need for deeper cooperation and a win-win situation. This aligns well with our strategic goal to innovate and manufacture more in China, for China.
Not only are global companies like us beneficiaries of China's high-quality development, but also local companies can benefit by cooperating and leveraging collective strengths, and usher in an innovation-driven era.