Icelandic whiskey maker Eimverk proposes a toast to second CIIE
Share - WeChat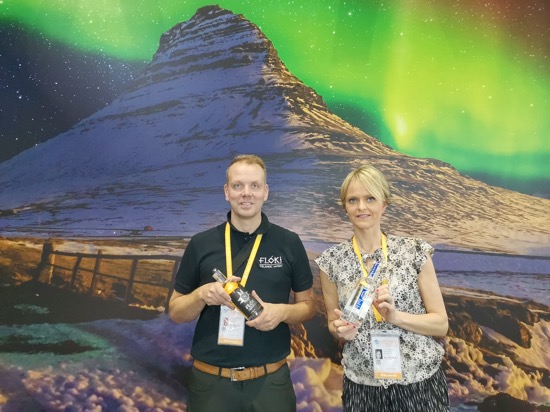 China is a huge market with tremendous potential opportunities and the second China International Import Expo provides a wonderful chance to tap the market, Halli Thorkelsson, CEO of Eimverk Distillery, an Icelandic whiskey manufacturer, said.
Thorkelsson, who is participating in the global event for the first time, proposed a toast for the success of the second CIIE as he is very confident in Chinese market and the stable development of the economy.
He was amazed by the rapid economic development in China since the founding of the People's Republic of China 70 years ago. China's high-quality development provides a good opportunity to introduce high-end whiskey products to Chinese customers, he said.
With the number of middle class rising, more and more Chinese tourists are going to Iceland and they consider Eimverk Whisky as their first choice of souvenirs for their families and friends back home, Thorkelsson said.
Within 10 years of its establishment, Eimverk Distillery has developed into an international brand popular in Germany, Denmark and Korea, and the company is interested in Chinese market not only because of the CIIE but also the success of the Belt and Road Initiative, said Sigrun Jenny Bardadottir, COO of Eimverk Distillery.
Transportation is of great importance for imports and export and the Belt and Road has helped to tackle the challenges and made it much easier to transport products to Chinese market, Thorkelsson said.
To cater to the market, Eimverk also produces baijiu, a kind of Chinese liquor but with different water and longer period of distilling to guarantee the high quality of the liquor, a name card of Iceland, which boasts good natural resources, said Jin Jia, regional director of Eimverk Distillery.
The international community is excited about the second CIIE, as it shows the government's determination to further open up its market and hope to meet more potential business partners in the days ahead, said Thorkelsson and Bardadottir.