Editor's note: History is, by definition, about past events, and while nothing can be done to change those events, forgetting them may lead to the wrong roads being taken in the future. During the coming months, China Daily will present a series of regular reports about ordinary lives during World War II and the continuing impact of the conflict on the present and the future. This is the first report in the series.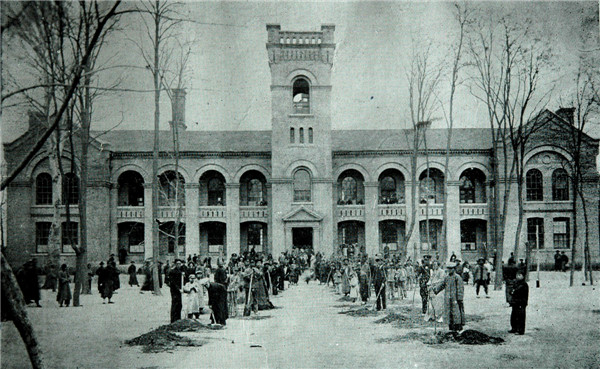 A file photo shows Weihsien Concentration Camp, the largest Japanese camp in China. It housed 2,008 people - 327 of them children - from more than 30 countries during World War II. Photo Provided to China Daily
Time never washes away memory of WWII internment camps, report He Na and Ju Chuanjiang in Weifang, Shandong province.
In the coastal city of Weifang, Shandong province, stand several dark, gray European-style buildings from the 19th century.
The passage of time has left them with peeling walls, broken windows and sunken foundations that disguise their former state, but they are a unique part of Chinese history.
Many residents are unaware of the story of these inconspicuous dwellings, now dwarfed by a middle school and a hospital.
Nearby, a well-designed square houses a 20-meter sculpture that depicts a group of foreigners holding hands with Chinese people. The base is covered by carved Chinese characters that spell the names, ages, professions and nationalities of 2,008 people - 327 of them children - from more than 30 countries.
On closer inspection, the visitor discovers the names include renowned politicians, artists, scientists and even sportsmen: R. Jaegher, a foreign-born adviser to Chiang Kai-shek; the Reverend W.M. Hayes, president of the former Huabei Theological Seminary; Arthur W. Hummel, former US ambassador to China; and Eric Liddell, the British athlete who won the 400m gold medal at the 1924 Olympic Games.
But how did a third-tier Chinese city manage to attract so much foreign talent?
The story begins in December 1941 when the Japanese attacked Pearl Harbor, immediately changing the status of Westerners in China's coastal regions, turning them from untouchable neutrals into enemy aliens. Within a few months all Allied Westerners in Japanese-occupied China were interned in camps.
The establishment in Weifang, known as Weihsien Concentration Camp, was the largest Japanese camp in China. It housed prisoners from many countries during World War II. Most of the internees endured three years there.
Rotten meat
Edmund Pearson, 78, a retired Canadian engineer and businessman was among the internees. Although he was just 6 years old when he was interned, he remembers everything.
Fearing the internees could make contact with the outside world or even escape, the Japanese covered the walls with electrified wires and set up searchlights and machine guns in the guard towers. The camp was under military management and the internees were forced to wear armbands displaying a large black letter to indicate their nationalities - "B" for British, "A" for American, and so on.

From left: Survivors look for their names on the memorial wall during a 2005 visit to the former Weihsien Camp in Weifang, Shandong province, on the 60th anniversary of the World War II. The camp's hospital block is still standing. Survivors comfort one another during the 2005 visit. Xu Suhui / Xinhua, Ju Chuanjiang / China Daily