Financial support does not always reach the most deserving, reports Hu Yongqi from Fuyuan, Yunnan.
Passersby would probably be misled by Cui Hongwu's house, believing it to be a fire-wracked ruin, with smoke-blackened walls and no windows or locks. However, Cui can't afford to redecorate the building, and is not worried about burglary because there's nothing worth stealing, his only possessions are a rusty cooking pot and a ragged bed.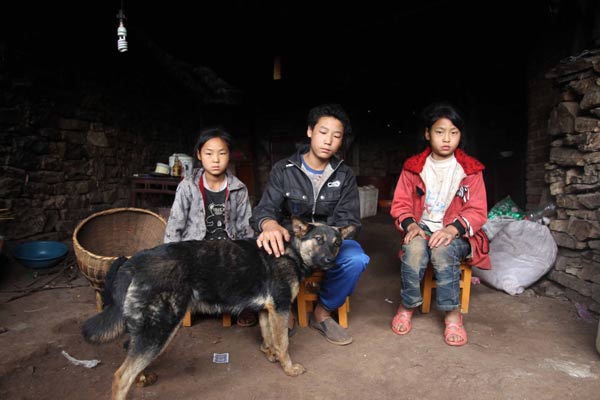 Cui Hongwu and his two younger sisters in their run-down home in Fuyuan county, Yunnan province. Their father died in an accident and their mother remarried and left. Wang Jing / China Daily
This shabby shelter had been home to the 13-year-old and his two younger sisters, aged 11 and 10, in Fannigong village since their mother married a man from a neighboring village soon after their father was killed in an accident 10 years ago. She never returned.
Cui doesn't like going home. At school, he pretends to be happy, but at home, he has to find food for his sisters. For the past decade, the children have survived on hunger-relief supplies provided by the village committee.
However, 50 km away in the county seat, it's a different world. Senior citizens gather in Jincheng Square to dance, perform karaoke and play badminton under shining neon lights. For them, the evenings are relaxing and enjoyable. Maseratis, Porches and Bentleys are parked in front of the Shengjing Hotel, one of most luxurious in town.
This is daily life in Fuyuan county, Yunnan province, one of 592 counties nationally recognized as the most impoverished in China.
Earlier this month, a plan to hold a music concert in the county gained national attention after reports on the Internet suggested it would cost "tens of millions of yuan". Despite claims that the costs would be borne by private funds from the local coal association, the county government cancelled the concert after criticism that it had failed to urge the wealthy to use their cash to help the poor instead.
The concert story has helped to highlight how a county can be designated as poverty-stricken but still have a buoyant economy. There is huge disparity between rich and poor, as indicated by the case of Cui Hongwu. Heaven for some is a hell for others.
Rural breakdown
Cui, now a second-grader at elementary school, started his education five years later than other kids, partly because of his duties at home. His older sister married a 25-year-old this year and in return, Cui's brother-in-law is obliged to support him financially. Most of Cui's clothes were donated by neighbors, but none was able to adopt him and his sisters. Not through any lack of willingness to do so, but simply because they were unable to support three kids.
Annual per capita income in Fannigong is just 800 yuan ($126), according to Yang Xiong, the Party chief of the Enle village committee that administers Fannigong. Usually, each family has two children and all the parents' money is spent on providing for them.
Tucked away in the mountains, Fannigong relied on horses and cows to transport goods before a new dirt road was completed in March. The snaking road is extremely difficult to navigate and one of our group became nauseous after a short ride. Villagers said the road is impossible to use in the rainy season.
Most residents still live by growing corn and wheat. However, given the barren land and a shortage of rainfall during the last three years, the produce is far from desirable. Cui Fumin, a farmer, 40, said he only harvested 3,000 kg of corn per hectare, compared with yields of 7,500 kg in the provincial capital Kunming.
There are also some exceptions. Some of the men went to work in a nearby coal mine. They earned 1,000 yuan a month and were regarded as wealthy.
Yang Chengwen, director of the Dahe township poverty alleviation office, said his office is short of funds to help the villagers. One villager, who asked not to be named, said the county government should have done more to help them. "To me and the other villagers, the county government has a lot of money (in terms of revenue and annual budget)," he said. "The point is, how much do they want to help us?"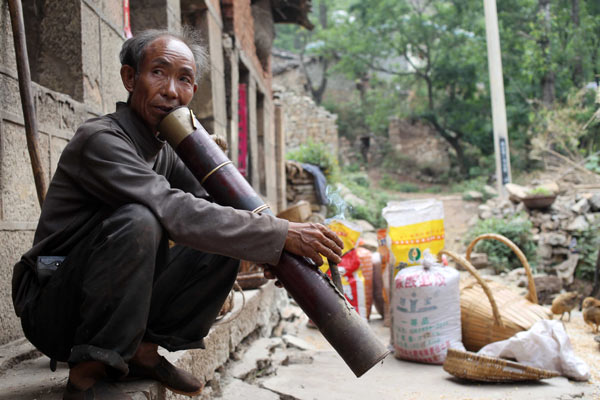 A senior citizen smokes a traditional bamboo pipe in Fannigong village, Fuyuan county, Yunnan province, which is designated as an impoverished county, but has produced at least 140 millionaires and even some billionaires.Photos by Wang Jing / China Daily
Numerically rich
According to the Fuyuan county government annual report, the county had GDP of more than 13 billion yuan in 2011, with revenue of 2.94 billion yuan. In urban Fuyuan, the residents' disposable per capita income rose to 21,255 yuan, roughly 14 percent higher than the 18,576 yuan provincial average. Meanwhile, the per capita net income of rural residents reached 5,210 yuan, 39 percent more than the provincial average of 3,747 yuan. The most important yardstick in deciding which counties will be categorized as poverty-stricken is the proportion of poor residents. Looking at the statistics, it's hard to believe that Fuyuan qualified for the national poverty-relief system.
Fuyuan has the third-largest economy of the eight counties and districts in Qujing city, which has jurisdiction over Fuyuan. Qujing was allocated two places in the national poverty-relief system in 2001. The 249,000 residents of Huize county are the poorest among Qujing's eight counties and districts, which meant that the other seven counties had to compete for the other place. Surprisingly, Fuyuan was once again designated as a national-level poverty-stricken county in February.
In 2001, Fuyuan was categorized as a national impoverished county, with per capita net income of 1,538 yuan a year and 104,700 low-income residents. From 1995 to 2000, the county received 44.3 million yuan from the central and provincial governments, according to publicity department officials. The poverty- alleviation fund increased to 1.09 billion yuan from 2000 to 2005, and 1.13 billion yuan from 2006 to 2010.
Experts said the reason local governments compete to gain the status of national impoverished counties is the financial support offered by the central and provincial governments.
Wu Sui, deputy director of Yunnan Provincial Poverty Alleviation Office, said Fuyuan has been successful in boosting its economy, but still wants to receive poverty-relief funding. In 2011, the central government allocated 2.6 billion yuan for Yunnan's 73 national-level poverty-stricken counties, and the provincial government gave 700 million yuan. The funds helped to raise incomes and eliminate poverty, said Wu.
This year, the focus of poverty-relief efforts has shifted to the mountainous areas. Yunnan has four key areas, covering 85 counties, including 70 designated as poverty-stricken. Fuyuan was one of three counties excluded from the new plan. "I think the reason Fuyuan was not included in the key areas was that it exceeded other similar counties in terms of farmers' net income and annual revenue," Wu said.
To some extent, the exclusion was evidence of the economic superiority of Fuyuan. But for Jiang Zhou, director of the local poverty alleviation office, the county is both rich and poor simultaneously.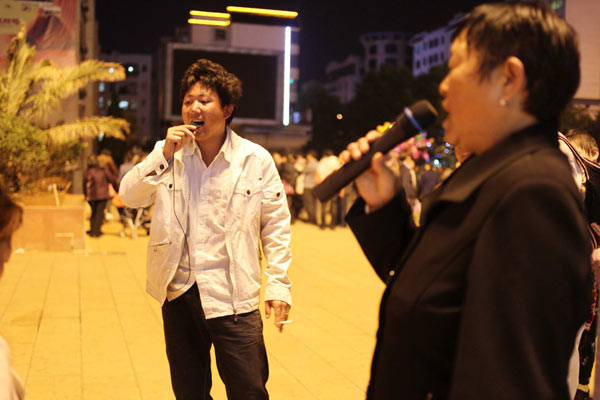 Residents gather in Jincheng Square to sing, dance and pursue other pastimes. Photos by Wang Jing / China Daily
The poor land
Jiang attributed the local poverty to the poor condition of the land and a shortage of water. More than 95 percent of land in Fuyuan is in mountainous areas, and the low quality sharply reduces yields. Serious droughts in the past three years have exacerbated the situation.
Meanwhile, the local coal industry, mostly privately owned, has produced more than 140 millionaires and even a few billionaires. "In our county, about 90 percent of the total wealth went to 10 percent of the population," commented Jiang, but, "The coal industry has helped to raise average incomes."
In 1954, Fuyuan (which means "rich in resources" in Chinese) was renamed in recognition of its coal reserves of 8.6 billion tons, and is one of the top 100 coal-producing counties in the country. Because of that status, the local economy is impressive. The county also ranked 45 in the "Top 100 Counties in Western China" in 2011, according to the independent researcher, the Zhongjun Institute of County Economy in Beijing
However, in 1998 the coal industry underwent profound reform and most of the government-owned mines were sold. Within two years, 90 percent of the mines had been bought by village chiefs, former mine directors, ex-officials of the coal industry bureau and township governments, according to an owner of a private mine, who asked not to be named for fear of reprisals. He said some mines were sold for just 100,000 yuan, with the most expensive costing less than 1 million yuan.
This year, the price of coal has skyrocketed to 400 to 500 yuan a ton from around 30 to 50 yuan in 2000, further widening the poverty gap. According to the unnamed owner, one could easily make a net profit of at least 36 million yuan from a mine with an annual production capacity of 150,000 tons.
The gap is wide inside the mines too. A middle-level manager is paid 30,000 yuan a month, while a miner earns 1,000 to 3,000 yuan, about 20 percent more than five years ago. "In the last five or six years, the gap between the rich and poor has become wider," said the unnamed owner. "Owners earned more than 10 times the profits seen 10 years ago, but miners' salaries have increased by just 20 percent."
Can we fix it?
The coal industry contributes more than 72 percent of Fuyuan's GDP, according to the county's annual report, and the local government has been heavily dependent on that. In the short term, the government can collect remarkable tax revenue by encouraging owners to produce more coal. "In Fuyuan, coal mines are overworked, but the owners and the government won't admit it," said the unnamed owner. "In one extreme case, a mine with a designated capacity of 60,000 tons produced more than 1.6 million tons of coal last year," he added.
The wealth gap between rich and poor occurs in other areas too. Last year, 14 nationally designated poverty-stricken counties, including Gushi in Henan province, were added to the list of the top 100 counties in terms of economic output, according to the Xinhua News Agency.
Since 2007, Fuyuan county government has received 576 million yuan in donations from local mine owners. One of them, Niu Jiade, from Housuo township, has donated more than 60 million yuan to boost local education since the 1990s. For him, education is the way to long-term development.
Wu Sui, director of Yunnan provincial poverty alleviation office, said the public should share the fruits of reform and opening-up, especially the poorer populations in underdeveloped areas.
Guo Anfei in Kunming contributed to this story.
Contact the reporter at huyongqi@chinadaily.com.cn