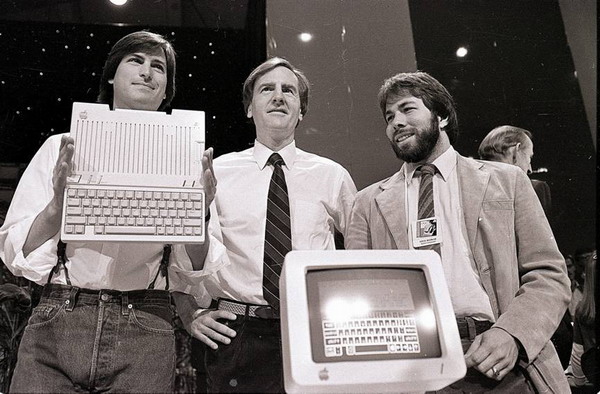 In this April 24, 1984 photo, from left, Steve Jobs, chairman of Apple Computer, John Sculley, president and CEO, and Steve Wozniak, co-founder of Apple, unveil the Apple IIc computer in San Francisco. [Photo / Agencies] 
Apple visionary changed how we used technology
SAN FRANCISCO - Passionate, prickly and deemed irreplaceable by many Apple fans and investors, Steve Jobs made a life of defying conventions and expectations.
And despite years of poor health, his death on Wednesday at the age of 56 prompted a global gasp as many people remembered how much he had done to transform the worlds of computing, music and mobile phones, changing the way people communicate and access information and entertainment.
"The world rarely sees someone who has had the profound impact Steve has had, the effects of which will be felt for many generations to come," said Microsoft co-founder and long-time rival Bill Gates.
"For those of us lucky enough to get to work with him, it's been an insanely great honor."
The founder of Apple Inc died on Wednesday in Palo Alto, California, surrounded by his family. Jobs had a long battle with cancer and other health issues.
A college dropout with a passion for minimalist design and a marketing genius, Jobs changed the course of personal computing and brought a revolution to the mobile market.
The iconic iPod, the iPhone and the iPad are the creation of a man who was known for his near-obsessive control of the product development process.
Charismatic, visionary, ruthless, perfectionist, dictator - these are some of the words that people have used to describe Jobs, who may have been the biggest dreamer the technology world has ever known, but who was also a hard-edged businessman and negotiator.
"Steve was the best of the best. Like Mozart and Picasso, he may never be equaled," said Marc Andreessen, venture capitalist and co-founder of Netscape Communications.
It's hard to imagine a bigger success story than Steve Jobs, but rejection, failure and bad fate were part and parcel of who he was.
Jobs grew up in Silicon Valley, which was changing from a place filled with orchards to homes for workers at Lockheed and other defense and technology companies.
Electronics friend Bill Fernandez introduced him to boy engineer Steve Wozniak, and the two Steves began a friendship that eventually bred Apple Computer.
"Woz is a brilliant engineer, but he is not really an entrepreneur, and that's where Jobs came in," recalled Fernandez, who was the first employee at Apple.
Wozniak said his goal was only to design hardware and he had no interest in running Apple.
"Steve Jobs' role was defined - you've got to learn to be an executive in every division of the company so you can be the world's most important person some day. That was his goal," joked Wozniak, who is still listed as an employee, even though he has not worked at Apple for years.