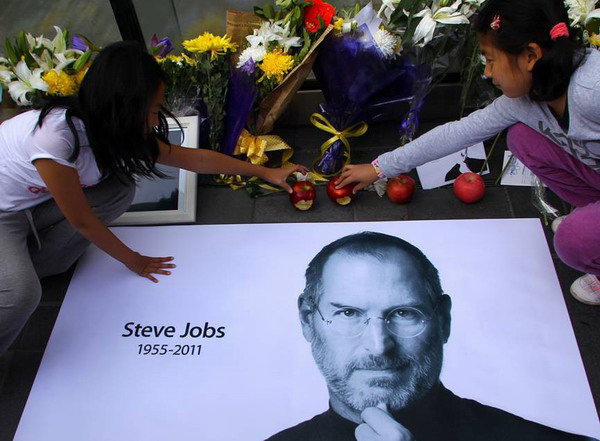 Chinese fans Yang Zihan (left) and Zhang Lingyi lay apples with bites taken out of them to mourn Steve Jobs in front of the Sanlitun Apple store in Beijing on Thursday. [Photo / China Daily]
Outpourings of public grief and appreciation sweep globe
BEIJING / SHANGHAI - Apple stores in China were once again packed with people on Thursday - but this time they didn't come for any new gadget unveiled by the company, but to mourn Steve Jobs, the company's visionary who died on Wednesday at the age of 56.
In Beijing and Shanghai, emotional diehard fans came to pay tribute to the legendary figure who never came to China, but who changed people's lives here with inventions like the iPod, iPhone and iPad.
"What Jobs brought us was quite different," said Tian Yang, 32, a worker with a mobile company who was paying condolences in front of the Sanlitun Apple store in downtown Beijing.
"When he showed up at each news conference with some new Apple products, I usually felt quite excited to see the innovation," Tian said.
Outside the store, a large picture with Jobs was placed on the ground as well as flowers, candles or apples with a bite taken out of them, an imitation of the company's iconic logo.
A card on top of a bunch of flowers read: "Rest in peace, Steve, you will be remembered".
Yi Ran, 64, a female artist who labeled herself an "iPhone freak", said that she burst into tears while hearing the news of Jobs' death.
"There are only three apples in the world, one with Eve, one with Newton, and the last one with Jobs," Yi said.
Zhao Wanpeng, a worker at the Sanlitun store, said that the memorial activities were being done spontaneously by fans.
On Shanghai's East Nanjing Road where China's newest Apple store was just opened last month, security guards stood outside to keep order.
"I knew that he wasn't in good condition when I last saw him on television but I just can't accept it," said 17-year-old Zhang Rui, adding that Jobs was an idol for her and her peers.
"Whenever we are required to write an essay about innovation or talent or leadership we quote Steve Jobs - for me, he's the best example to follow," said Zhang.
Yin Cheng, a 23-year-old college student, said it was hard to accept that Jobs was gone.
"Mac pro, iPod, iPhone, and iPad, all of these products are my great companions, and many of my friends have owned at least one of these products," he said.
Bouquets of chrysanthemums and lilies were also laid outside the store at Lujiazui in Shanghai.
An employee who spoke on condition of anonymity said his brain went blank when he heard the news on Thursday morning.
"He's the very reason that I work so hard, dreaming that someday I can meet him in person and tell him how I admire him, but at the moment, I don't know what to do," said the employee.