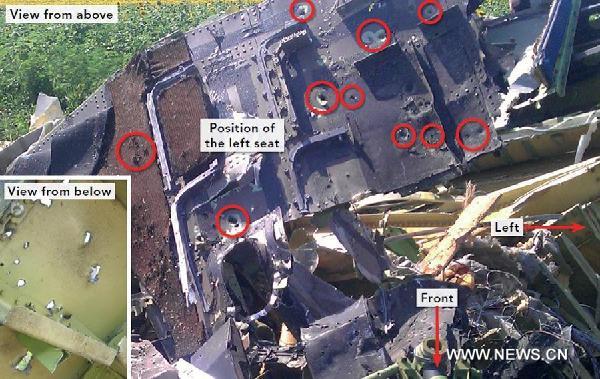 A photo is presented in the Preliminary Report of MH17 crash published by Dutch Safety Board on Sept. 9, 2014. According to the report, the crash was probably the result of structural damage caused "by a large number of high-energy objects that penetrated the aircraft from outside".[Xinhua/Dutch SafetyBoard]
THE HAGUE/KIEV -- External force caused the MH17 crash in eastern
Ukraine
, the Dutch Safety Board investigating the tragedy said in its preliminary report on Tuesday.
"Flight MH17 with a Boeing 777-200 operated by Malaysia Airlines broke up in the air probably as the result of structural damage caused by a large number of high-energy objects that penetrated the aircraft from outside," the report stated.
There are no indications that the MH17 crash was caused by a technical fault or by actions of the crew, it said.
"The pattern of wreckage on the ground suggests that the aircraft split into pieces during flight," the report said. "Based on the available maintenance history, the airplane was airworthy when it took off from Amsterdam and there were no known technical problems."
According to the Dutch Safety Board, the cockpit voice recorder, the flight data recorder and data from air traffic control all suggest that Flight MH17 proceeded as normal until its abrupt crash.
The board listened to all recorded communications and did not notice signs of any technical faults or an emergency situation.
In the report, the board presented the initial findings of an investigation, with participation of Malaysia, Ukraine, Russia, Britain, the United States and Australia.
The preliminary report did not reveal what exactly caused the crash or how the airplane disintegrated on July 17 in eastern Ukraine, killing all 298 people on board.
The Dutch Safety Board aims to publish a definite report within one year.
The board said it has not conducted a detailed study of the wreckage. However, the available images show that the pieces of wreckage were pierced in numerous places and the pattern of damage is consistent with what may be expected from a large number of high-energy objects penetrating the aircraft from outside.
"The Dutch Safety Board wishes to determine the cause of the crash, for the sake of the loved ones of the victims and for society at large," said Tjibbe Joustra, chairman of the board.
"The initial results of the investigation point towards an external cause of the MH17 crash," he added. "More research will be necessary to determine the cause with greater precision. The Safety Board believes that additional evidence will become available for investigation in the period ahead."
The board did not draw any conclusions yet and did not mention the word "rocket," but the initial findings suggest that the plane was hit by a rocket.
The board will not answer the question who was responsible for launching this possible rocket. A criminal investigation is being carried out by the Dutch Public Prosecutor, a separate investigation in collaboration with the countries with passengers on board Flight MH17, and Ukraine.
The Boeing 777 en route to Kuala Lumpur crashed near Ukraine's eastern city of Donetsk on July 17.
The Ukrainian government and independence-seeking insurgents in eastern Ukraine have blamed each other for the downing of the passenger jet.