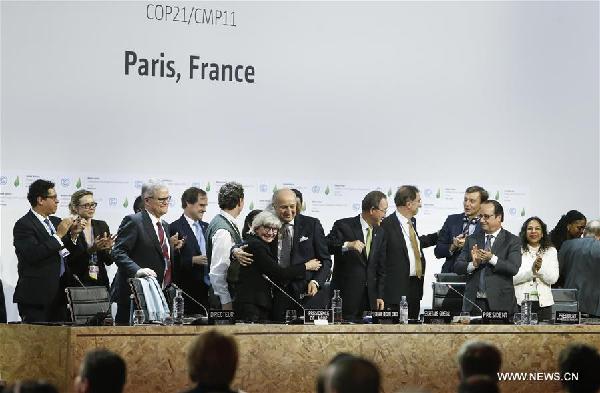 The final conference at the COP21, in Le Bourget, Paris, Dec 12, 2015. [Photo/Xinhua]
BEIJING - China's climate endeavors, including its self-imposed commitments and extensive diplomatic efforts before and during the Paris climate talks, have been an indispensable part of global efforts leading to the making of final breakthrough at the climate talks.
On Saturday, a historic climate agreement was reached at the Paris climate talks, virtually committing every nation for the first time ever to reducing greenhouse gas emissions that cause global warming.
However, significance of the Paris agreement can never be exaggerated as the "outcome has a bearing with the undertaking of climate change of the human being and our future of sustainable development," said Xie Zhenhua, China's Special Representative on Climate Change.
The Paris meeting is much looked to after years of wrangling-fraught UN talks and the fiasco of Copenhagen.
On the basis of equity and common but differentiated responsibilities, the Paris agreement aims to hold global average temperature rise to below 2 degrees Celsius above pre-industrial levels and strives for limiting the temperature increase to 1.5 degrees Celsius.
Taking into account of the needs and priorities of developing countries, the agreement also eyes financing support of $100 billion a year by developed to developing countries from 2020.
The landmark agreement on climate change signed in Paris Saturday is "a new beginning in international cooperation" and is fair in splitting responsibility between developed and developing countries, according to a Chinese Foreign Ministry spokesperson.
Climate pledges are closely tied to a country's economic future, which makes it particularly hard for developing nations to improve the livelihood of people.
Leading role as climate fighter
China's status as one of the world's largest greenhouse gas emitters has always been hyped up in spite of its low per-capita emission rate which lags far behind the large array of developed countries.
However, the environmental woes and necessities to transform the country's economic growth mode increasingly prompt its policy makers to make efforts to address the issue of climate change.
Under a program of action submitted to the United Nations in June, China announced it aims to hit the CO2 emissions peak by around 2030 and slash CO2 emissions per unit of the Gross Domestic Product (GDP) by 60-65 percent from the 2005 level.
"As the largest developing country, China's efforts in climate change have 'spill-over' and 'model' effects globally," said Zhang Haibin, a professor with Peking University.
While taking bold actions and making progress in its own climate change fight, China has also taken an active part in international cooperation in combatting climate change and has provided assistance within its capabilities to other developing countries.
The country has inked a bunch of bilateral climate agreements with big emitters like the United States, France, India, Brazil and the European Union.
Over the years, China has earnestly fulfilled its policy commitments of South-South cooperation regarding climate change to support developing countries.
In September, China announced the establishment of an independent South-South cooperation fund of 20 billion yuan ($3.1 billion) to help developing countries affected by global warming.
China's recently reaffirmed pledge, made with the United States, on climate change mitigation and its domestic actions to curb emissions have helped build positive momentum in Paris, senior OECD climate policy analyst Jane Ellis told Xinhua.
"As a major player in three separate negotiation groups, namely G77/China, BASIC (Brazil, South Africa, India, China) and LMDC (Like-Minded Developing Countries), China has the power to bridge differences between these groups as well as between parties more broadly," Ellis said.