The Sino-Africa Joint Research Centre, which is under construction in Kenya, will spearhead research done by Chinese and African scientists in addressing emerging biodiversity and conservation challenges facing developing countries.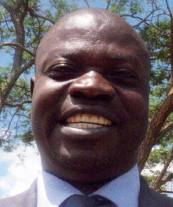 Romanus Odhiambo, vice-chancellor at Jomo Kenyatta University of Agriculture and Technology.
Once completed, the facility, equipped with state-of-the-art equipment, is expected to bolster the worldwide credibility of the research output of scientists. "This is going to be a game-changer in scientific work done in Africa," said Romanus Odhiambo, deputy vice-chancellor of academic affairs at Jomo Kenyatta University of Agriculture and Technology.
Speaking at the construction site of the $14.3 million facility, Odhiambo said Africa would be able to reduce the brain drain of its top researchers.
"The continent has been losing serious minds to developed countries because of the lack of proper facilities. We are happy that the facility will become the focal point for groundbreaking research work done by not only African and Chinese professionals, but scientists from other countries, too," he said.
Odhiambo called Chinese collaboration key in helping Africa build proper conservation systems that ensure plant diversity is protected.
"We are in a period where urbanization and population growth is trimming down our forests. A lot of research is yet to be done, hence we cannot afford to lose it because it is key for future innovations," he said.
Odhiambo said research on wild plants may unlock useful information used to improve plant yields and nutrition. "The facility will also hold plants that are still unknown by many in Africa," he said, calling them an invaluable treasure.
The research buildings will be at the center of a botanical garden to occupy the bulk of the 16 hectares provided by the university, which is about 40 minutes' drive from downtown Nairobi. It is to be completed in September 2016.
Twelve laboratories are being built for research work, including work by graduates pursuing master's and doctoral degrees. Also planned are modern conference facilities.
Thematic gardens containing African indigenous plants, medicinal plants, rare and unique plants, cultivated edible and wild plants and bamboo will be set up.
The university hopes the facility will serve as an inspiration to young scientists to embark on a research career path. "It will be a place for mediation, education and entertainment for learners and scholars alike. This will be the venue for our growing youthful population who would want to discover their paths in research in agriculture and biochemistry."
Odhiambo said he is cognizant of sustainability challenges facing existing research institutes in Africa. But he expressed confidence that, under the management of the university, the new facility would be on firm ground. "We are also keen to guide our research on challenges facing the people such as the vagaries of climate change, population growth and rapid urbanization. The output will always be relevant," he said.
Odhiambo said he is excited that there is immense political goodwill from both China and Kenya backing the project.
The project is to operate as a joint venture between the university and Wuhan Botanical Garden of the Chinese Academy of Sciences. Professor Robert Gituru, who received a post-doctoral diploma in plant molecular biosystematics from Wuhan University, forwarded the proposal for a joint program in 2009 to Chinese officials. Gituru, a lecturer at the Kenyatta university, has been appointed center director.
The proposal was received by Wang Qingfeng, who became director of the joint facility program commissioned by Wuhan Botanical Garden.
Wang, who is a specialist in biodiversity, said the center is a dream come true. It gained traction because of its importance in developing Africa's science and technology, he said. "This will be a platform where scientists from all over the world will strive to improve science and technology. It will also be an education center for young African and Chinese students."