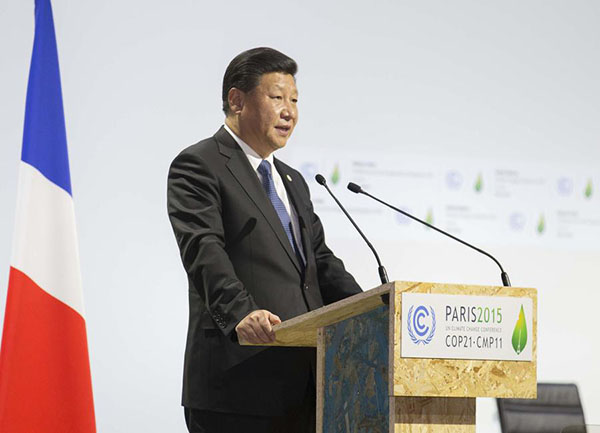 President Xi Jinping delivers a speech for the opening day of the World Climate Change Conference 2015 (COP21) at Le Bourget, near Paris, France, November 30, 2015. [Photo/Xinhua]
PARIS - As the climate change summit has unveiled on Monday in Paris, China, one of the major players in the fight against climate change, has made tangible contribution to the ambitious task of addressing global climate change over recent years.
The summit - the 21st Conference of the Parties (COP21) to the United Nations Framework Convention on Climate Change (UNFCCC) - will bring together the 196 ratifiers of the UNFCCC signed in 1992 to seek a "comprehensive, balanced and strong" agreement on curbing climate change.
As the world's biggest developing country, China has not only made remarkable achievements in managing environmental problems, saving energy, reducing greenhouse gas emissions and developing green and low carbon technologies, but has also contributed to the progress of international negotiations in reaching a new global climate agreement.
Meanwhile, China also takes on its international responsibility to participate actively in international dialogue and help other developing countries deal with climate change.
Since signing a joint statement with the United States on climate change in 2014, China has sent strong political signals to the world through its solemn promises demonstrating its determination to take a green, low-carbon and sustainable development path.
So far, China has signed a series of bilateral statements on climate change with India, Brazil, the European Union (EU), the United States, France and others, and submitted to the UNFCCC in June the Intended Nationally Determined Contributions (INDCs), which details China's own contribution to combating climate change for the sake of all mankind.
Christiana Figueres, executive secretary of the UNFCCC, told a recent press conference in Bonn, Germany, that China has taken "impressive" actions to combat climate change.
Citing the INDCs, Figueres said China is committed to seeing its carbon dioxide emissions reach the peak around 2030, and launching a national carbon emissions trading market in 2017.
Besides, the country has also included the fight against climate change in its 13th Five Years Plan for national socioeconomic development in the 2016-2020 period, which demonstrates "a very very serious" attitude towards climate change, she said.
French President Francois Hollande said China could play "a major role" in the COP21, and Nicolas Hulot, Hollande's Special Envoy for the Protection of the Planet, also praised the exemplary role of China.
"Everything that China will do will have a ripple effect on the great nations. China has done the demonstration and can enhance this demonstration," Hulot said.
"China really should make its voice heard in this concert of climate change," he said.
China also supports a comprehensive review every five years of the progress made towards the achievement of the approved long-term objectives, which also demonstrates China's capability for and confidence in meeting its commitments.
An active engagement in the fight against climate change is not only the duty from which "a responsible major country" can not evade, but is also in line with the urgent requirement of China's current socioeconomic development.
Nowadays, China is already the world's leading country both in energy saving and in the use of new and renewable energy. In 2014, the energy consumption and the emission of carbon dioxide per unit of the gross domestic product (GDP) decreased by 29.9 percent and 33.8 percent respectively, compared to the 2005 levels.
While making progress of its own, China has never hesitated in providing every possible support and assistance to countries or regions whose economic development, reserves of resources and technological level are lagging behind.
In September, Chinese President Xi Jinping and his US counterpart Barack Obama signed the China-US joint presidential statement on climate change, in which China pledged 20 billion yuan ($3.1 billion) in support of a South-South climate cooperation fund to help other developing countries combat climate change.
Officials and experts from various countries and international organizations, especially those from developing countries, have spoken highly of this financial support from China, saying it represents a commitment to international responsibilities and fulfillment of international obligations by a major country, setting an example for other countries, particularly developed ones, in this endeavor.
Climate change is a global issue which spares no country in the world. China has said it would support a comprehensive, balanced and strong agreement in Paris based on the principles of the UNFCCC and the Kyoto Protocol, an extension treaty to the UNFCCC adopted in 1997 in Kyoto, Japan, that aims to control greenhouse gas emissions.
In accordance with the principle of "common but differentiated responsibilities", the principle of equitableness and the principle of respective capacity, China is willing to cooperate with other parties in actively and constructively advancing the negotiation process toward a fair and reasonable international climate change system.
The aforementioned statements are reflected in "China's Policies and Actions for Addressing Climate Change 2015", an annual report issued by the National Development and Reform Commission of China.
Like Marie-Claire Aoun, Director of the Center for Energy at the French Institute of International Relations, said, China in recent years has placed environmental management in a position as important as economic development and poverty alleviation, and is prepared to actively participate in international climate negotiations and contribute to their success.