Nations agree to upgrade ties and work together on Belt and Road Initiative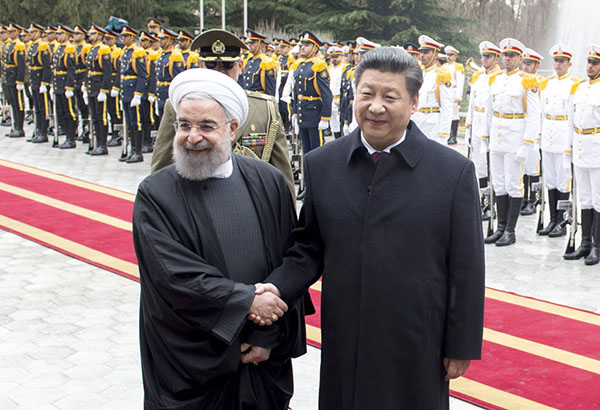 Chinese President Xi Jinping (right, front) shakes hands with Iranian President Hassan Rouhani in Tehran, Iran, Jan 23, 2016. [Photo by Wang Ye/Xinhua]
Observers have expressed high hopes for China's role in helping Iran reinvigorate its economy, which has been weakened by three decades of international sanctions.
President Xi Jinping and his Iranian counterpart, Hassan Rouhani, agreed to upgrade their countries' two-way relationship to a comprehensive strategic partnership during talks in Teheran on Saturday.
Iran was the final stop on Xi's three-nation Middle East trip, with the president arriving back in Beijing on Sunday. It was the first visit to the country by a Chinese leader for 14 years.
The talks on Saturday were followed by the signing of a memorandum of understanding on production capacity, minerals and investment cooperation, as well as an agreement to jointly build the Belt and Road Initiative, a trans-Eurasia strategy to boost trade and connectivity.
Other aspects covered by the documents include finance, communications, culture, science and technology, and climate change.
Xi said the nations had enjoyed friendly exchanges and sincere cooperation for as many as 2,000 years thanks to the Silk Road. He said China hopes the Iran nuclear deal — the Joint Comprehensive Plan of Action — can be implemented smoothly.
Rouhani said the Chinese president was the first foreign leader to visit his country after the action plan was secured, which "mirrors the level" of the friendly ties. "Iran values China's role in international affairs, and we remember China's longtime support and help," he said.
After the lifting of the sanctions on Iran, Wu Bingbing, a professor of Middle East studies at Peking University, has predicted "there will be a surge of economic demand". He said: "Iran now needs all-out, full-flung infrastructure construction, and it needs to restore its crude oil production capacity. There is a lack of investment in its energy sectors, including the gas sector."
The agreements signed in Teheran will "help rebuild the energy sector infrastructure and further boost Iran's exports", Wu said.