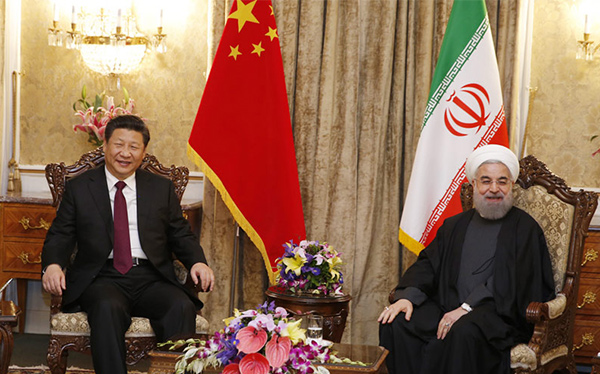 Chinese President Xi Jinping, left, talks with Iranian President Hassan Rouhani in Tehran, Iran, Jan 23, 2016. [Photo/Xinhua]
TEHRAN -- China and Iran, two ancient civilizations, agreed Saturday to elevate their ties to a comprehensive strategic partnership to boost cooperation on all fronts and carry forward their millennia-old friendship.
The consensus was reached during President Xi Jinping's visit to Iran, the first in 14 years by a Chinese head of state.
China and Iran have no fundamental conflicts, and there are only consistent mutual support and mutual benefit between them, Xi said during summit talks with his Iranian counterpart, Hassan Rouhani.
In history, there had been no wars or disputes between the two nations, and the two nations had conducted time-honored friendly exchanges and sincere cooperation, which date back to 2,000 years ago thanks to the Silk Road, Xi said.
"The China-Iran friendship is originated from friendly exchanges in history, from mutual assistance in difficult times, from unselfish support to each other on major issues, and from our concepts of mutually-beneficial cooperation. It has stood the test of the vicissitudes of the international landscape," Xi told Rouhani.
Xi's visit comes days after West-led sanctions on Iran were lifted following an announcement by the International Atomic Energy Agency confirming that Tehran had scaled back its nuclear program. China played a constructive role in prior negotiations.
China hopes the Iran nuclear deal, the Joint Comprehensive Plan of Action (JCPOA), can be implemented smoothly, Xi said, noting that China is willing to see Iran strike a brand-new pose on regional and international stages.
"China stands ready to work with Iran to lift our mutually-beneficial cooperation in such fields as politics, economy and trade, energy, infrastructure, security, and cultural and people-to-people exchanges to a new stage," the president said.
Xi also pointed out that China respects and supports the nations and peoples in the region to independently pursue the political systems and development paths suited to their national conditions, and the international community should help the region achieve economic and social development.