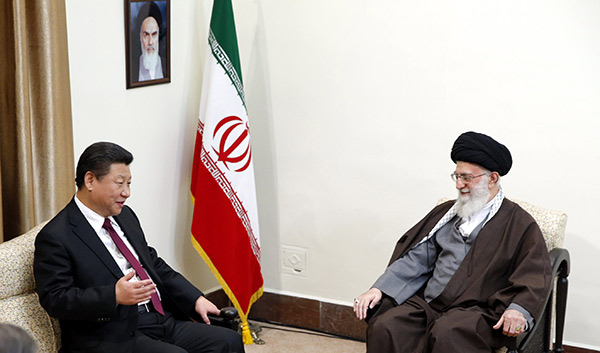 Chinese President Xi Jinping meets with Iranian Supreme Leader Ayatollah Ali Khamenei in Tehran, Iran, Jan. 23, 2016. [Photo/Xinhua]
TEHRAN -- Chinese President Xi Jinping on Saturday concluded a two-day state visit to Iran, the last leg of his three-nation visit to the Middle East to upgrade ties and boost cooperation.
Xi discussed cooperation with leaders of Saudi Arabia, Egypt and Iran within the framework of the Belt and Road Initiative and unveiled cooperation projects in fields including industrial capacity, infrastructure and energy.
During Xi's trip, China upgraded its diplomatic relations with Saudi Arabia and Iran respectively to comprehensive strategic partnership, a positioning which means closer cooperation in various areas.
Xi tried to promote enhanced dialogue as a means of resolving differences in the Middle East, and unveiled new aid programs to facilitate development, which he said is key to overcoming difficulties.
Meanwhile, the Chinese leader made it clear that his country is not looking for proxies or trying to fill any "vacuum" in the Middle East, but aspiring to build "a network of mutually beneficial partnerships."
LIFTING BILATERAL TIES WITH IRAN
While in Tehran, Xi agreed with Iranian President Hassan Rouhani to elevate the bilateral ties to a comprehensive strategic partnership.
"China stands ready to work with Iran to lift our mutually-beneficial cooperation in such fields as politics, economy and trade, energy, infrastructure, security, and cultural and people-to-people exchanges to a new stage," the president said.
Rouhani said Iran will respond actively to the Belt and Road Initiative, a vision Xi put forward in 2013 to boost interconnectivity and common development along the ancient land and maritime Silk Roads.
The two sides signed a Memorandum of Understanding on jointly pursuing the initiative.
The Chinese president highlighted a few priorities in the practical cooperation with Iran within the framework of the Belt and Road Initiative such as energy, interconnectivity, industrial capacity and finance.
China hopes the Iran nuclear deal, the Joint Comprehensive Plan of Action (JCPOA), can be implemented smoothly, Xi said.
China and Iran agreed to set up an annual meeting mechanism between their foreign ministers. They also said that China supports Iran's application for full membership of the Shanghai Cooperation Organization (SCO).
Xi also met with Supreme Leader Ayatollah Ali Khamenei and Parliament Speaker Ali Larijani.
Khamenei said that Tehran is willing to push the bilateral practical cooperation to a new high. Iran is an important country along the Belt and Road and stands ready to play a greater role in jointly pursuing the initiative with China, the supreme leader said.