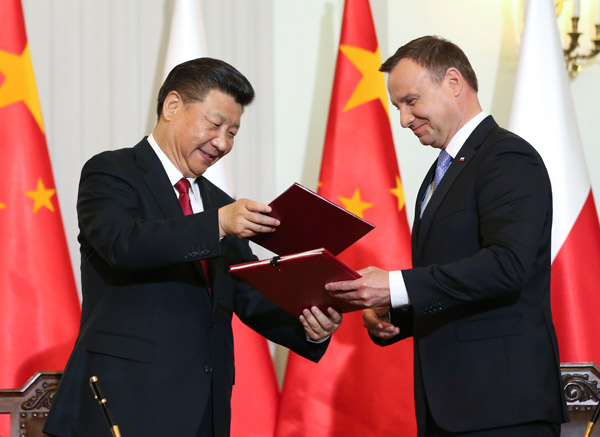 President Xi Jinping (L) and his Polish counterpart Andrzej Duda attend a signing ceremony in Warsaw on June 20, 2016. [Photo/Xinhua]
President Xi Jinping pushed on Monday for creation of a new engine for economic growth through joint efforts with Poland to enhance economic and trade ties.
The two countries should work together to establish a China-Europe economic and trade mechanism, facilitate the procedures of investment and trade and make China-Poland cooperation a leading model of regional cooperation, Xi said.
He made the remarks while attending an economic and trade forum attended by entrepreneurs and government officials in Warsaw.
China and Poland should make full use of the Europe's advantage in technology, China's excellent production capacity, as well as Poland's unique geographic location and rich human resources, he said.
The China-proposed Belt and Road Initiative has been welcomed by many countries since it was put forward three years ago, Xi said, adding that establishing the Belt and Road is a joint effort among countries along the route.
As a key member of the European Union, Poland leads the Central and East Europe (CEE) region in many ways, said Xi, adding that China is willing to promote both China-CEE and China-EU cooperation by working with Poland.
Polish President Andrzej Duda said at the forum that Xi's visit will bring more cooperation in business, trade and technology, which will benefit people on both sides.
Poland supports the Belt and Road Initiative and is dedicated to Europe-Asia cooperation, he said. Poland has maintained sound relations with other CEE countries, and is willing to make concerted efforts with China for greater development of CEE-China cooperation.
Denis Depoux, Asia deputy president of the Munich-based consulting firm Roland Berger, told China Daily that Poland has a unique position in Europe due to its large size as one of the bigger countries in Europe and as it lies at the intersection of Russia and Germany, connecting the East and West of Europe.
CEE plays a crucial role within Europe as it is an integral part of the continent and key to its stability, he said.
He Maochun, director of the economic and diplomatic research center at Tsinghua University, said that during Xi's visit, China and Poland will reach consensus on several issues, including market access, market-oriented economy status and the formulation of new trade rules between the two countries.
anbaijie@chinadaily.com.cn