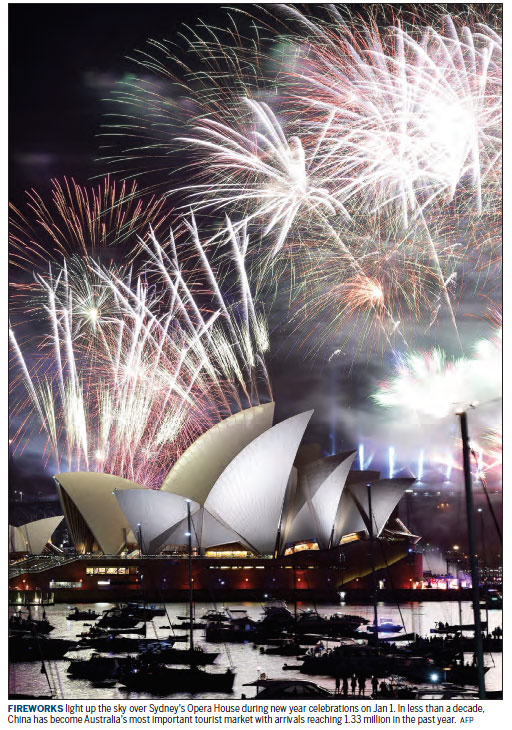 Chinese visitors and investments head Down Under in record numbers as a result of new visa rules and the free trade agreement.
The first thing the young Chinese backpacker noticed when he arrived in the southern Australian state of Tasmania was the night sky.
"I had never seen anything like it … so clear and so full of stars," he said while sipping coff ee in a cafe in Sheffield, called the town of murals, in the northwest of the state.
The Chinese traveler was on his way with a group of friends to Cradle Mountain, one of the most visited spots on the tourist map of Tasmania. The group from Beijing was on a working holiday around Australia.
These young men and women represent a growing band of Chinese tourists now visiting Australia on extended holidays. In less than a decade, China has become Australia's most important tourist market.
This is well and truly reflected in the tourist numbers. The Australian Bureau of Statistics said in March the combined number of tourists from the Chinese mainland and Hong Kong during the past 12 months hit 1.33 million, a 21.3 percent increase year-on-year.
This figure has knocked tourists from New Zealand off the top spot for the first time in the history of the survey, which dates back to 1991.
The impetus for this spurt in tourist numbers seems to be the Australian government's new work and holiday visas to Chinese nationals aged between 18 and 30, with at least two years of higher education.
People who are granted this visa can stay in Australia for up to 12 months. They can spend up to four months in school and another six months working.
The landmark China-Australia Free Trade Agreement, which came into effect on Dec 20 last year, has also given a big fillip to Chinese tourism and investment in Australia.
According to Australia's assistant minister for immigration and border protection, Michaelia Cash, up to 5,000 places will be filled under the program's annual cap, the country's largest short-term work and holiday visa program so far.
[Australia: Clean, green environment and sense of security are major attractions for Chinese visitors]
"China is our most valuable tourism market, worth a record A$8.3 billion ($5.9 billion) per year and growing strongly," said Richard Colbeck, Australian minister for tourism and international education.
Emily Ma, a lecturer in the department of tourism, sport and hotel management at Griffith University in South East Queensland, said: "Australia is becoming more and more popular, especially among young Chinese.
"There is no single reason why Chinese visit Australia," she told China Daily Asia Weekly.
"Australia offers many things to the Chinese tourist. It is a relatively safe country to get around, the air is clean, its cities are cosmopolitan and Australians are a friendly people."
Ma said Chinese tourism to Australia can be broken down into various groups. The first is the organized tour groups which mainly consist of older people. Visas, itineraries, hotels, sightseeing and meals are all taken care of by the tour organizer.
"They really don't have to do a thing except follow the tour guide," Ma said. Then there are the independent travelers, mainly young people, who come to Australia on a working holiday and stay for three to six months.
"This is becoming popular among young Chinese who are more adventurous than their parents were. They are curious and want to experience different things, people and cultures," Ma noted.
There are also those who come to see relatives or their children who are studying in Australia. Next, you have the investors who come to look at investment opportunities with the view of eventually emigrating to the country.
Ma said the image Chinese have of Australia is of a "big, wide open country with kangaroos, koalas, beaches, mountains, deserts, clear skies and fresh air. And (for those) coming from Beijing, that is worth the trip in itself."
She said the Australian government's recent announcements about 10-year visas and reduction of related regulation will "see the number of Chinese tourists increase" in the coming years.
Tourism is now one of Australia's top two services export earners and one of the five key super-growth sectors that will drive economic growth into the next decade. China is expected to be a significant part of that growth.
In April this year, Tourism Australia and China's national carrier Air China signed a new memorandum of understanding which will come into effect on July 1 this year to continue their joint marketing activities to promote Australia to Chinese travelers.
During his visit to China in April, the Australian Prime Minister Malcolm Turnbull announced that Australia and China had agreed to designate 2017 as the Australia-China Year of Tourism.
China is Australia's most valuable tourism market, expected to be worth more than A$13 billion by 2020. The Australia-China Year of Tourism will give a significant boost to the promotion of Australia as a highly attractive holiday destination.
For almost two decades, Australia and China have enjoyed a strong partnership in tourism.
The Australian government's progrowth policies, such as streamlining visa applications, increasing aviation capacity and making tourism infrastructure a national investment priority, are helping to support the growth of the industry which supports around 1 million jobs in Australia.
Tourism Australia's managing director John O'Sullivan said the marketing group had gone to significant lengths to research the preferences and behavior of the target consumers.
The nation's largest hotel operator, AccorHotels Pacific, has 51 hotels in Australia that have achieved what it calls "Chinese optimum service standards".
This includes staff trained in cultural differences, Chinese dishes on menus, and Chinese newspapers and television channels.
Chinese developers are also making a foray into Australia's hotel industry, taking on rival Western chains such as the Sheraton, Hilton and Hyatt.
In December last year, the Shanghai-based Greenland International Hotels Group opened its first fivestar hotel in Sydney. The redeveloped art deco Primus Sydney is Greenland's first Australian hotel and the company's first outside China. The company has around 70 hotels in 20 Chinese provinces, either completed or currently under construction.
Professor Zhu Ying, director of the Australia Centre for Asian Business at the University of South Australia, said the growth in Chinese tourism in Australia has been followed by Chinese investment in the tourism sector.
"That investment comes in two parts — public (State owned) and private," he told China Daily Asia Weekly.
The first part includes Stateowned assets like the airlines — China Eastern, China Southern and Air China — building up momentum by bringing people to Australia from cities in China.
"A number of Chinese airlines have now established a strong foothold in Australia."
Second, investors come in the wake of tourists. "As the number of Chinese visiting Australia grows, so too will the investors … many of whom come as tourists in the fi rst place," Zhu said.
"You are already seeing a number of Chinese developers entering the market, especially in the tourism sector. Yes, I admit a lot of that investment is going into commercial and residential property, but you are seeing a growing number of Chinese investors moving into the hotel and resort sector."
Nearly two years ago, one of Australia's largest trophy hotels, the fi vestar Sheraton on the Park in Sydney was bought by China-based Sunshine Insurance Group for A$463 million. At the time it set a new record for the largest single hotel asset sale in Australia.
In April this year, leading Australian private developer Grocon won the backing of Chinese investor Zhengtang for a A$700 million hotel complex in Sydney's Darling Harbour.
Much of the Chinese investment has been in tropical North Queensland, Brisbane, the Gold Coast, Sydney and Melbourne.
Zhu said the Chinese tourist, especially from the middle class, is looking for something diff erent. "The big draw for Australia is its clean, green environment and that sense of security," he said.
In April, listed Chinese investor Interactive China Cultural Technology Investments spent A$29 million on the Balgownie Estate luxury resort, spa and winery in Victoria. This was the group's third investment in the luxury resort sector.
Zhu pointed out that Chinese investors were not only eyeing resorts and hotels but also golf courses. Late last year Moonah Links golf resort on Victoria's Mornington Peninsula was sold to Chinese buyers for A$18.5 million.
Liu Chuyang, trade commissioner from the Australian embassy in Beijing, said other service sectors in Australia including healthcare will also be promoted in China.