Chinese visitors to Japan more than doubled their hotel stays in 2015, and they are spending more on personal items rather than on goods such as electrical appliances.
The number of nights visitors from the Chinese mainland stayed in hotels in Japan rose more than 111 percent year-on-year to 16.46 million in 2015, while the number of visitors from Taiwan who stayed in Japanese hotels climbed 34.9 percent to 10.71 million, Japan Times said on Monday.
Increased incomes, easier visa policies and more flights triggered the boom in Chinese visitors, according to a report by Ctrip, a leading online travel agency in China.
Shopping tastes have also changed. Whereas many Chinese consumers once mainly purchased household goods, such as toilet seats and refrigerators, more are opting to spend their money on clothes, cosmetics, pharmaceuticals and food, the report said.
The spending power of Chinese tourists has given a significant boost to department stores and other retail sellers in Japan, while Prime Minister Shinzo Abe has been stepping up efforts to increase the number of foreign tourists to 20 million annually by 2020, the report said.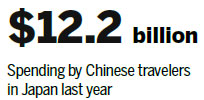 The tourism agency said that Chinese visitors - more than 5 million of them - visited Japan in 2015 and account for one-fourth of Abe's 2020 target. They spent $12.2 billion in the country.
Liu Xiaoxiang, a 27-year-old computer sales company owner in Hangzhou, Zhejiang province, took his fiancee to Japan in January.
"I spoke Chinese all the time as the salespeople in Japan often speak fluent Mandarin. The bargain prices for luxury goods and the food there impressed me," he said.
Yu Qiang, a researcher at the University of International Relations, said China and Japan are trying to improve their relationship, and better ties will surely result in even more Chinese going to Japan.