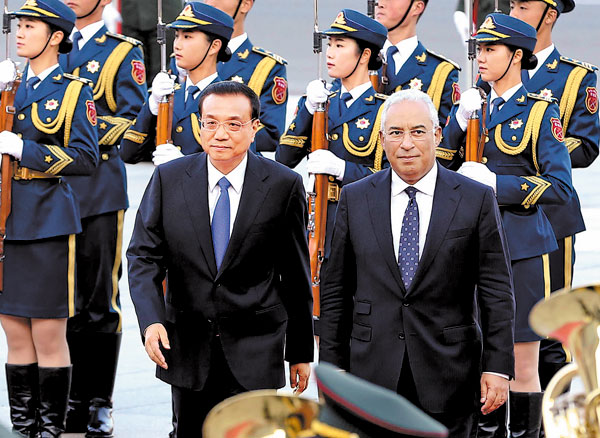 Premier Li Keqiang welcomes visiting Portuguese Prime Minister Antonio Costa outside the Great Hall of the People in Beijing on Sunday.FENG YONGBIN / CHINA DAILY
New deals on table as Prime Minister Antonio Costa visits Beijing, Macao
China and Portugal reinforced their ties as Portuguese Prime Minister Antonio Costa met with Premier Li Keqiang on Sunday in Beijing during Costa's ongoing visit to China.
The two officials witnessed the signing of a stack of documents representing deals in such areas as third-party market cooperation and infrastructure. Costa, who began his official visit on Saturday, will stay in China until Wednesday.
Portugal has already become China's fifth largest investment destination in Europe, and the relationship is set to grow as senior officials and corporate leaders participated in the signing ceremony.
During their talk, Li said China and Portugal should expand their trilateral and multilateral cooperation "with the Portuguese-speaking countries and in even larger areas".
It is hoped both countries reinforce collaboration in fields including infrastructure construction and agricultural products, and usher in new progress in sectors such as energy, infrastructure and clean energy, Li said. Deals also were signed in finance, telecommunications and culture.
Costa echoed Li's words regarding third-party market cooperation and said Portugal is eager to maintain high-level contacts with the Chinese side.
Feng Zhongping, vice-president of the China Institutes of Contemporary International Relations, said the evolving China-Portugal relationship has two major highlights — contributions to China's cooperation with Europe as a whole and developing China's cooperation with Portuguese-speaking countries.
"Both countries have their respective advantages and strengths that could be tapped into by third-party countries, and the closeness of language between Portugal and other Portuguese speaking countries has made the trilateral and multilateral cooperation possible," Feng said.
Similarly, China has developed third-party market cooperation with other European countries such as France, making it easier to approach French-speaking countries in Africa, Feng noted.
When meeting with Costa in Beijing on Saturday, President Xi Jinping said both countries need to deepen cooperation in investment and explore more markets.
As of May, the Chinese investment in Portugal had reached $6.28 billion, while the Portuguese investment in China had reached $199 million.
Chinese Ambassador to Portugal Cai Run said this month that the China-Portugal relationship is "in its best shape of all time".
Besides Beijing, Costa will also visit Macao to attend the fifth Ministerial Conference of the Forum for Economic and Trade Cooperation between China and Portuguese-speaking countries, on Tuesday.
When addressing a joint news conference following the signing ceremony, the Chinese premier noted that the forum, created 13 years ago, has played an important role in boosting economic, trade and cultural exchanges between China and the Portuguese-speaking countries. Both Li and Costa will attend the forum's opening ceremony.
Li said it is hoped both governments will jointly develop the intergovernmental, multilateral mechanism and better tap into Macao's role as a commercial and trade platform.