Seventy percent of people in China and Japan consider the countries' bilateral relations important, according separate surveys conducted in the two countries.
More than 57 percent of Chinese support the two countries' cooperation in Asian affairs while 56.1 percent of Japanese said the countries' joint efforts are necessary for Asia's peace and development.
However, people in both countries did not think highly of what the relationship is now.
Slightly more than 78 percent of the Chinese respondents said the two countries have a "poor" relationship - compared with 67 percent in 2015 - an opinion shared by 71.9 percent of Japanese.
The Chinese respondents considered the disputes over territory and maritime resources, as well as Japan's perceptions of its World War II aggression, major issues in the relations.
Wang Gangyi, vice-president of China International Publishing Group, said Chinese are still optimistic about the future of the relations. They cherish "peace" and "common development" most.
Twenty-three percent of Chinese, 5.5 percentage points more than last year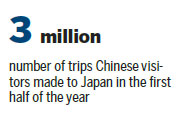 , believed in a better relationship in the future. Only 14.4 percent of Chinese said the tension between the two countries would continue, compared with 24.8 percent last year.
Nearly 70 percent of Chinese considered people-to-people exchanges important.
A record 4.99 million Chinese visited Japan in 2015, according to the Japan National Tourism Organization. In the first half of this year, more than 3 million toured in Japan.
However, the number of Japanese visiting China has continued to decline and stood at only 2.5 million last year.
Akio Takahara, a law professor at the University of Tokyo, said the governments of China and Japan must think about how to improve direct people-to-people exchanges, which improve understanding and help the relations greatly.
He recommended that the Chinese government invite more Japanese teenagers to China. More than 1,000 Chinese youngsters are invited by the Japanese government to Japan every year.
Wang agreed that direct exchange between the two peoples helps build a solid base for relations.
The two opinion polls were conducted respectively by Horizon Research Consultancy Group in China and Public Opinion Research Center in Japan in August and September.
They are prelude to the annual Beijing-Tokyo Forum, which will convene in Tokyo on Tuesday and Wednesday. The discussions will focus on such topics as strategic mutual trust, mutual understanding, and economic cooperation between China and Japan.
The forum has been held annually since 2005. This year it will be jointly organized by China International Publishing Group and Genron NPO, a Japanese think tank.
caihong@chinadaily.com.cn