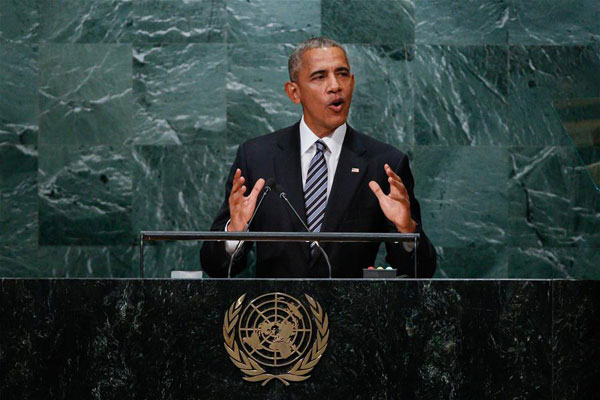 US President Barack Obama speaks at the 71st session of the United Nations General Assembly at the United Nations headquarters in New York, on Sept 20, 2016. [Photo/Xinhua]
UNITED NATIONS -- US President Barack Obama on Tuesday called on countries in the world to "open our hearts" and do more to help refugees who are desperate for home.
"We should all understand that ultimately our world will be more secure if we are prepared to help those in need," Obama said in his final speech at the United Nations General Assembly (UNGA), adding that pledges of increased assistance made at the meeting should all be welcomed.
Obama will host a summit on the global refugee crisis on the margins of UNGA later Tuesday, in an effort to galvanize new global commitments to help the refugees.
More than 65 million people in the world are displaced, the highest number on record since the UN Refugee Agency (UNHCR) began collecting statistics, according to the White House. More than 21 million of these people have crossed international borders in search of safety and are assessed as refugees.
In his speech, Obama said many nations are "doing the right thing" on the refugee issue, but countries "with wealth and the benefits of geography" can do more to offer a hand to the displaced people.
"In the eyes of innocent men and women and children...we have to have the empathy to see ourselves," Obama said. "We have to imagine what it would be like for our family, for our children if the unspeakable happened to us."
On Tuesday, the White House announced that 51 American companies have made "new, measurable, and significant" commitments to aid refugees in the US and around the world. In total, the companies have committed to investing, donating, or raising more than $ 650 million.