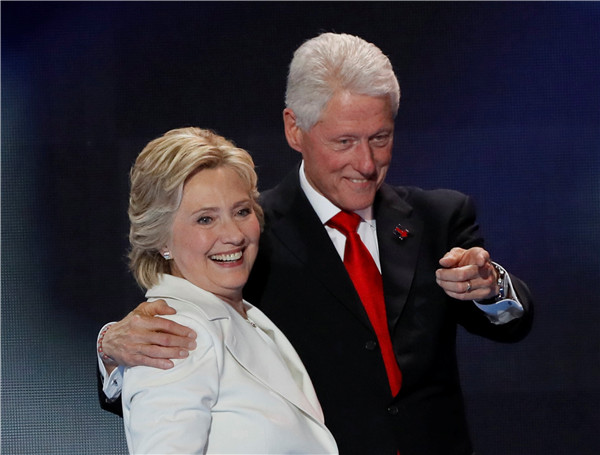 File photo shows US Democratic presidential nominee Hillary Clinton stands with her husband, former President Bill Clinton, after accepting the nomination in Pennsylvania, US, July 28, 2016. [Photo/Agencies]
WASHINGTON - Nearly 30 out of the 14,900 deleted emails recently recovered by the FBI in US Democratic presidential nominee Hillary Clinton's email setup probe may involve the 2012 attack on Benghazi, Libya, State Department lawyers said at a hearing on Tuesday.
Besides the cache of 30,000 emails Clinton voluntarily turned over to the State Department in 2014, the FBI has uncovered these previously undisclosed documents to or from Clinton when she served as the US Secretary of State from 2009 to 2013, US District Court Judge Amit P. Mehta was told.
"Using broad search terms, we have identified approximately 30 documents potentially responsive to a Benghazi-related request," State Department spokesman John Kirby said in a statement.
"At this time, we have not confirmed that the documents are, in fact, responsive, or whether they are duplicates of materials already provided to the Department by former Secretary Clinton in December 2014." he said.
The State Department has committed to releasing these emails under a series of Freedom of Information Act (FOIA) lawsuits launched by the conservative watchdog group Judicial Watch, but insisted it will only do that after weighing whether the emails are personal or work-related.
It remains unclear whether all the recovered emails can be made public before the general elections set on Nov 8 on the requirement of Judicial Watch.
Following media reports on some 30 Benghazi-related emails recovered in the Cliton email setup probe, Republican nominee Donald Trump's campaign quickly opened fire on the former secretary of state.
"Clinton swore before a federal court and told the American people she handed over all of her work-related emails. If Clinton did not consider emails about something as important as Benghazi to be work-related, one has to wonder what is contained in the other emails she attempted to wipe from her server," Trump's senior communications adviser Jason Miller said in a statement.
In July, the US Justice Department closed a yearlong criminal probe with no charges into the handling of classified material in Clinton' s email setup, which FBI Director James B. Comey reproached "extremely careless."