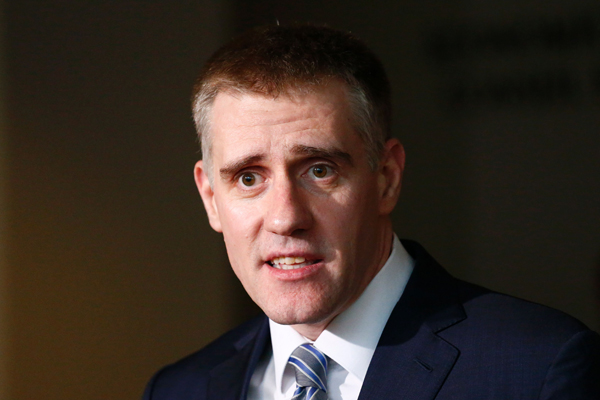 Igor Luksic, Deputy Prime Minister and Minister of Foreign Affairs and European Integration of Montenegro, speaks during a stakeout with reporters on the selection of the next UN Secretary-General at the UN headquarters in New York on April 12, 2016. [Photo/VCG]
UNITED NATIONS - Igor Luksic of Montenegro decided to quit the race for the position of the next UN secretary-general, bringing down the total number of candidates vying for the world's top diplomat to 10, the president of the UN General Assembly said here Tuesday.
Mongens Lykketoft, the president of the 70th session of the 193-member General Assembly, sent a letter from the Permanent Mission of Montenegro to the United Nations to all UN member states, to announce the withdrawal of Luksic who is the foreign minister of Montenegro.
The message from Montenegro's Mission, including a letter from Luksic himself, was also sent to Ramlan Bih Ibrahim, the Malaysian UN ambassador who holds the rotating presidency of the UN Security Council for August.
The 15-nation UN council has the final say over who can win the race to succeed current UN Secretary-General Ban Ki-moon on Jan 1, 2017.
"I would like to take this opportunity to inform you that I have decided to withdraw my nomination for the position of the secretary-general of the UN," Luksic said in his signed letter.