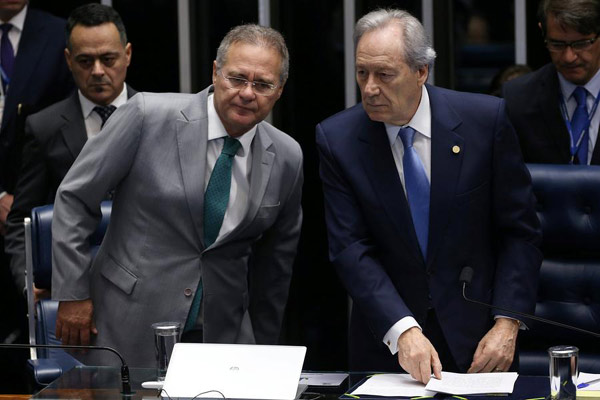 President of Brazil's Supreme Court, Ricardo Lewandowski (R) and Brazil's Senate President Renan Calheiros stand during a discussion before the Senate votes on whether suspended President Dilma Rousseff should stand trial for impeachment, in Brasilia, Brazil, August 9, 2016. [Photo/Agencies]
RIO DE JANEIRO - The Brazilian Senate decided Wednesday to give the go-ahead to an impeachment trial against suspended President Dilma Rousseff.
At the end of a lengthy session that lasted over 15 hours, senators voted 59 to 21 to approve the trial, surpassing the 41 votes needed to open the trial.
Rousseff is accused of committing fiscal fraud in an attempt to balance the 2014 budget. She has not yet made comments on the Senate's decision.
According to earlier reports, the impeachment trial is expected to take place in late August or early September.