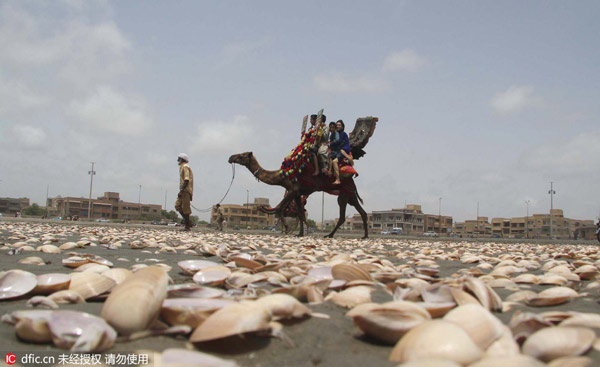 Huge numbers of oysters shell cover the beach in Karachi in Pakistan, July 28, 2016. [Photo/IC]
The number of tourism visa application to Pakistan submitted by Chinese in the first half year of 2016 jumped by 37 folds, according to an industry report released on Friday.
The visa center of Ctrip, a leading online travel agency in China, said new tourism destinations are increasing as top choices of Chinese mature outbound tourists and Pakistan is "a dark horse" this year.
"Driven by the strong relations between the two countries, many Chinese tourists put Pakistan on the top list of their outbound travel plans," said Shi Yuzhuan, marketing director of the hotel division of ctrip.com.
Pakistani President Mamnoon Hussain said earlier that his country firmly supports China's principles and positions on key issues concerning the South China Sea, Taiwan and Tibet, winning wide support and praise from Chinese netizens.
In the past, despite the close relations between China and Pakistan, the country in South Asia did not attract too many international tourist arrivals due to security reasons.
In 2015, Chinese tourists paid 120 million visits to countries and regions outside Chinese mainland. However, the majority of them went to Hong Kong, Macao, Taiwan, Japan, South Korea, Thailand, as well as some western countries such as the United States and Britain.
Shi Yuzhuan, Chief Marketing Officer of Ctrip, said visits paid by Chinese outbound tourists would keep growing in the following years, however, their preferences have changed.
"Many traditional popular tourism destinations are losing visitors. For an example, France has less Chinese visitors because of terrorist attacks," said Shi. "On the other hand, Chinese tourists are getting more mature and they would like to explore new destinations."
Besides Pakistan, tourism destinations including Kenya, Finland, Egypt, South Africa, Argentina, Czech, Israel, Iceland, received more visa applications from Chinese tourists in the first half year of 2016.
"Many of the visa applications were from second- and even third-tier cities of China," said Shi. "For example, the visa applications to Czech submitted from second- and third-tier cities jumped by five folds after Czech opened more visa centers in five cities."