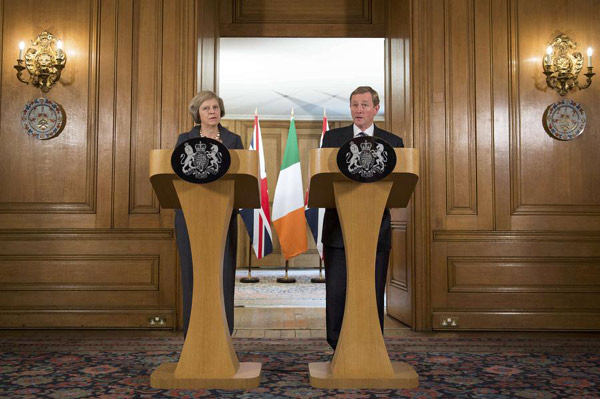 Britain's Prime Minister Theresa May (L) and Irish Taoiseach Enda Kenny hold a joint news conference inside 10 Downing Street, London, Britain July 26, 2016. [Photo/Agencies]
LONDON - British Prime Minister Theresa May said Monday a way must be found to resolve the question of the border separating Northern Ireland and the Irish Republic once Britain leaves the EU.
May paid her first visit as Prime Minister to the Northern Ireland Monday, spending 90 minutes at Stormont Castle meeting Northern Ireland's First Minister Arlene Foster and Deputy First Minister Martin McGuinness.
Downing Street later issued a statement on behalf of May after her talks with the two leaders.
The visit to Northern Ireland came after May's visits to Scotland and Wales to reassure leaders they would be fully involved in Brexit negotiations.
Once Britain finally leaves the EU, the border with Ireland will be the only stretch of EU border within Britain.
The border between the Northern Ireland and the Irish Republic has been open, allowing free passage for peoples on both sides of the border since a treaty was signed almost a century ago.
May said:" I recognize the particular circumstances in Northern Ireland because of course it has a land border with a country that will be remaining in the EU. We've had constructive talks about the will that we all have to find a way through this in the best interest of Northern Ireland and the best interest of the UK as a whole."
"We'd had a common travel area between the UK and the Republic of Ireland for many years before either country was a member of the EU."