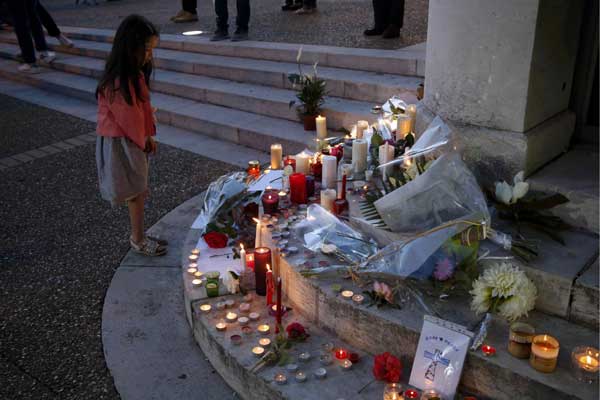 A young girl stands near flowers and candles at the town hall in Saint-Etienne-du-Rouvray, near Rouen in Normandy, France, to pay tribute to French priest, Father Jacques Hamel, who was killed with a knife and another hostage seriously wounded in an attack on a church that was carried out by assailants linked to Islamic State, July 26, 2016. [Photo/Agencies]
PARIS -- Paris Prosecutor Francois Molins on Tuesday said one of the church attackers was known to intelligence services and tried to join radical insurgents in Syria twice in 2015.
One of the knifemen who slaughtered a priest in a church northern France was "categorically identified" as Adel kermiche, 19, Molins told reporters.
He was arrested twice last year after being intercepted by German police in March and Turkish authorities two months later last year while he tried to reach Syria using the ID of his cousin.
Returning home, he had been under house arrest and had been wearing an electronic tag allowing police to monitor his moving.
The identification of the second attacker was underway, Molins added.
The two men armed with knives entered a church in Saint-Etienne-du-Rouvray, on Tuesday morning mass and seized six people before killing a priest and seriously wounding another person.
Paris prosecutor also confirmed that a 16-year-old teenager was placed under custody in the investigation. He was believed to be the brother of someone wanted by police for trying to go to Syria in the previous year.
The two men shot dead by police had fake explosives and used nuns as human shields, he added.