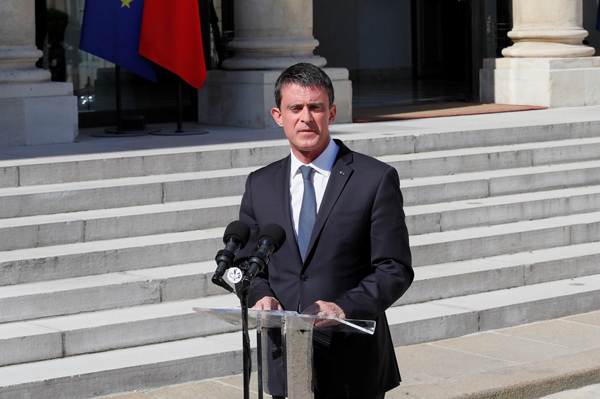 French Prime Minister Manuel Valls delivers a speech in the courtyard of the Elysee Palace in Paris, France, July 15, 2016, after attending an emergency defence meeting the day after the Bastille Day truck attack in Nice. [Photo/Agencies]
At least 84 people were killed and 18 seriously injured when a 20-tonne truck ploughed into crowds celebrating France's national day on the seafront in the southern city of Nice, immediately labelled a terror attack by President Francois Hollande.
French Prime Minister Manuel Valls told reporters: "We are at war." Three days of national mourning were declared by the government.
Police opened fire on the truck as it zigzagged through screaming crowds on the fashionable Promenade des Anglais, killing the driver, who was identified as a 31-year-old French-Tunisian. Police did not identify him, but local media said the man as Mohamed Lahouaiej Bouhlel, a Nice resident of Tunisian parentage. There were unconfirmed reports that two other suspects were at large.
Guns and a grenade were found in the vehicle, a plain white panel truck.
Eyewitnesses said the driver pulled out a handgun and was exchanging shots with police before he was killed.
The attack happened as the crowds finished watching a firework display to mark Bastille Day, when France celebrates the founding of the French Republic with its official motto of Liberte, Egalite, Fraternite (Freedom, Equality and Brotherhood).
Hollande immediately said he was drafting extra security personnel throughout France and extending by three months the state of emergency first imposed after the gun and bomb attacks in Paris last November on cafes, restaurants, a soccer stadium and a theater which killed 130 and injured over 360.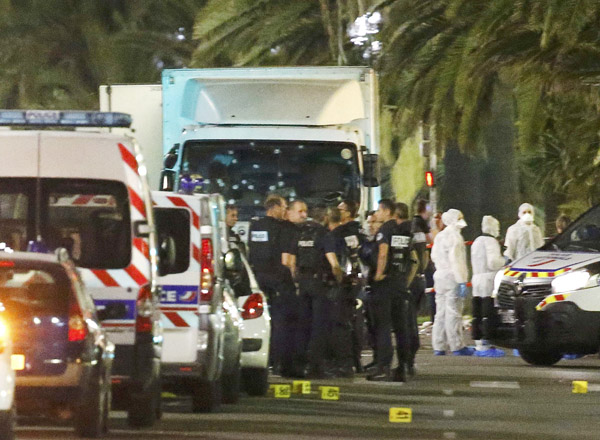 French police forces and forensic officers stand next to a truck July 15, 2016 that ran into a crowd celebrating the Bastille Day national holiday on the Promenade des Anglais killing at least 60 people in Nice, France, July 14. [Photo/Agencies]
France's security chiefs started the investigation into how the unmarked truck was able to break through the barriers which had closed off the Promenade des Anglais and travel at speed through packed crowds, zigzagging and mowing people down. BBC said British intelligence experts were cooperating on the investigation.
Eyewitnesses said police chased the truck and about 25 shots were fired at it, mainly hitting the cab and eventually killing the driver just outside the iconic Hotel Negescro.
Alain Juillet, former intelligence chief with France's DGSE (Directorate of External Security), said: "We can see the possibility of more attacks by individuals."
"For France, it is almost impossible to stop everything," he added.
Sky News security expert Sam Kiley said France was heavily engaged in the fight against terror, with an aircraft carrier flying regular bombing missions against the Islamic militant group, Isis, in Syria and Iraq.
In addition it has about 3,000 troops, including special forces, operating in north Africa where Islamic militants have established a foothold in Libya.
This, he said, had made France a target for terror attacks.
Oliver Guitta, an independent security analyst, said France had at one time had one of the most comprehensive domestic intelligence services, called Les Renseignements Generaux (General Intelligence), which reported to the police.
But in 2008 the then President Nicolas Sarkozy ordered it to be merged with other intelligence services.
"Since then from a domestic point of view France has been blind," Guitta said.
"What they have to do is get informers into these terror cells. The numbers of suspects are huge. Ten years ago, there were 50 to 75 people to monitor. Now it is close to 2,000."
Police in Nice said the truck driver, who was known for common criminal offences, had started his journey in the mountains behind Nice.
Two Chinese nationals were amongst the injured.
In Beijing Cui Hongjian, director of the Department of European Studies at the China Institute of International Studies, told China Daily terrorists had targeted France as an influential country and wanted to "multiply the panic" with their attacks.
France has the largest number of Muslim migrants of any European Union country, and faced problems of cultural integration and contradiction between religions, said Cui.
Wang Qingyun in Beijing also contributed to the story.
To contact the reporter: chris@mail.chinadailyuk.com